Rating: * * * * *
Verdict: A masterpiece.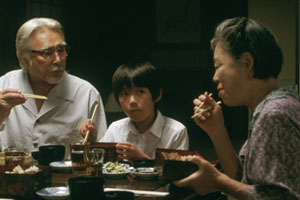 The new film by Japanese writer-director Kore-eda is an exquisitely slow and finely calibrated study of a family that is one of the most deeply satisfying cinematic experiences of the year so far. Audiences who enjoyed Edward Yang's Yi Yi (A One and a Two) or, more recently, Olivier Assayas' sublimely understated Summer Hours will find much to admire.
Kore-eda, plainly an acolyte of the late Yasujiro Ozu, whose Tokyo Story this film recalls, shares that maestro's unerring ability to find human drama in the ebb and flow of everyday life.
The shadow of death stretches across this film as it did across his earlier After Life, in which just-dead people chose a single memory to take with them into eternity, and Maborosi, about a widow's recovery from her husband's suicide.
It's about a family named Yokoyama, whose members get together each year at the modest seaside home of the ageing parents to remember the death of the eldest son many years before.
Junpei, a doctor, was the family hero, and the manner of his death, which emerges only slowly, has conferred almost saint-like status on him. Little wonder then that the surviving son, Ryota (Hiroshi Abe), is so ambivalent about the get-together: his parents look down their noses at both his job (an art restorer) and his new wife (Yui Natsukawa), who has a child from a previous marriage.
The day unfolds as a series of telling vignettes narrated with classical simplicity. As the camera moves slowly through the house, framing the action with compositions of meditative precision, we are reminded how families exist mainly as accretions of memories, both good and bad, and of unspoken thoughts - hopes, fears and resentments. And the arrival of a guest - expected by the family, though not by us - adds another disquieting level to the drama.
Kore-eda has been quoted as saying that he "focused on the premonitions and the reverberations of life, because I believe that is precisely where the essence of life can be found" and the film has a sure feel for the way humans operate.
If it feels inconclusive, it's because life doesn't deal in dramatic, clear endings. The Yokoyamas, like the rest of us, have to make the best of what they have. Watching them get to grips with that reality is pure cinematic pleasure.
Cast: Hiroshi Abe, Yui Natsukawa, You, Kazuya Takahashi,
Director: Hirokazu Kore-eda
Running time: 114 mins
Rating: G In Japanese with English subtitles