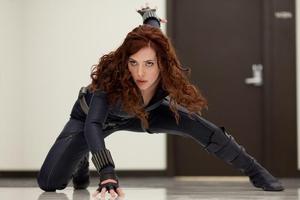 Scarlett Johansson sexes up the Iron Man franchise in her role as the femme fatale Black Widow. The new addition joins an all-star cast which includes Robert Downey Jr, Gwyneth Paltrow, Samuel L. Jackson, and Mickey Rourke.
While many young actresses might be intimidated to work in the company of such larger-than-life personalities, Johansson, 25, a self-confident New Yorker who has been acting since the age of 10, says, "They made me feel at home right away. Everyone has such a unique perspective and sense of humour." And what did Johansson bring to this eclectic mix? "I brought the New York to the party."
Jon Favreau returns to direct the big-budgeted - reportedly US$200 million plus ($278 million) - comic book-inspired movie.
Much has been written about Johansson's super-tight costume, a sleeked up homage to the origins of Catwoman, and who better to squeeze into that outfit than the actress, who has been described as "sexually overwhelming" by her three-time director, Woody Allen (Match Point, Scoop, Vicky Cristina Barcelona).
This reddish-hued ingenue provides the eye candy quotient, not that Paltrow is any slouch in that department, either.
"Female superheroes are usually one-note, overtly sexy characters which never really attracted me," says Johansson.
"They weren't necessarily dynamic or interesting but this project was different because of her duality, the mystery to her, and cold-hearted ambition, so that made the idea of Black Widow intoxicating to me. But it's not like I thought, 'I can't wait to play a superhero'."
While the reaction to Iron Man 2 seems divided - not unusual for a much-awaited sequel, especially when a large percentage of the fans are passionate comic book aficionados, - it seems unanimous it is a good deal better than the majority of comic-inspired movies.
Namely, The Spirit (directed by Frank Miller), in which Johansson starred in last year in another turn as a comic book icon, as Silken Floss.
The movie was considered largely awful (through no fault of Johansson).
"It's always a bummer when the movie you're proud of is not recognised or falls by the wayside of the release," she says, "or the marketing isn't great, and I'm not saying those things happened, but it's unfortunate when you work with people who are really creative and it doesn't do well. I'm sad I won't be able to play her again."
But there is a strong possibility she will resume her role as Black Widow in a spin-off.
"These films are fan-driven so I think if people like this character and want to see more of her that will be enticing for the studio," she says.
"I'd be thrilled if that were the case. Or if it was to carry that torch for this character into another movie like The Avengers, I would love that."
There was some noise that Johansson and Paltrow didn't get along on the set; however, that notion seems to be standard when there is more than one female star on any set.
"It's so silly that people expect girls to be that way," she says. "In fact, Gwyneth was so excited to have another girl on the set. She was like, 'A woman! My God, you don't know what I've been dealing with on my own!"' she says. "I've always admired her work and we both started when we were very, very young so it was nice to share that. We both had a lot of good stories and know a lot of the same people."
The chemistry between them also worked on screen, too. "I think Jon celebrates strong women and he was excited to have that part of the storyline."
Johansson keeps a low profile in her private life. She's married to actor Ryan Reynolds (The Proposal) and they live in her beloved New York City, where she recently ended a stint on Broadway playing A View From A Bridge.
"Theatre is such a different animal, it really is," she says. "The whole lifestyle was different, the work you are doing is different and it's intensive in another kind of a way.
"I would love to do it again - not that play, though."
To look at her resume, she's performed in more than 30 movies, earned a writer's credit for a segment for the ensemble, New York I Love You, and even recorded an album of Tom Waits covers (to mixed reviews). That's quite a feat for someone at the age of 25.
"People forget that I'm 25 because it probably feels like I've been around forever and a day," she says, with a sigh of world weariness.
"I've lived a very full life and I'm excited by it. I feel like I'm in a different stage of my career and it's a career that has had many different incarnations. It's been great to do an album, do a play, or don the cat suit. It's been an incredible ride. But somehow I feel that I'm just starting. It's bizarre."
LOWDOWN
Who: Scarlett Johansson
What: Starring as Black Widow in Iron Man 2
When and where: At cinemas now