Rating: * * * *
Verdict: A wonderfully imagined and executed retelling of this well-known story.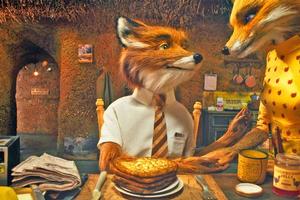 Wes Anderson's adaptation of Roald Dahl's 1970 novel Fantastic Mr Fox is as much a treat for adults as for older kids. In an intricate stop-motion animation shot on digital still cameras, Anderson has imaginatively and intelligently brought Dahl's world to life in a manner that should delight fans of the book, and satisfy fans of Anderson's aesthetic style and dry sense of humour.
With the help of film-maker Noah Baumbach (who co-wrote The Life Aquatic with Steve Zissou, and directed The Squid and the Whale), Anderson has embellished Dahl's minimal story, adding new characters and allowing him to indulge in his favourite theme of dysfunctional families run by conflicted fathers, in this case the charming scallywag Mr Fox.
Voiced by George Clooney, Mr Fox is a natural born hunter, but when his son Ash (Jason Schwartzman) is born he promises Mrs Fox (Meryl Streep) he'll give up his dangerous chicken thieving lifestyle and settle into a new career as a columnist for the local newspaper. Unable to completely suppress his desire to pilfer from local farms Mr Fox plans one last heist (helped by a possum and his nephew Kristofferson).
In return, three of the nastiest farmers in the district do whatever it takes to rid themselves of Mr Fox, his family and friends.
Clooney and Streep manage Anderson's dry, deadpan humour well, but at first their distinctive voices are distracting. It's not long, though, before Anderson's unique vision returns your attention to the characters rather than the big names voicing them.
Visually, Fantastic Mr Fox is gorgeous. With elaborate theatrical-like sets steeped in orange and brown tones, and detailed animation that captures the smallest movement of fur or twitch of an ear, Anderson has created a textured and whimsical world reflective of his love of fur puppets and stop motion animation, a technique he regards as a "magical effect where you can see how it's accomplished".
Add to it a soundtrack featuring the Beach Boys and The Rolling Stones, and a cameo from Jarvis Cocker as a banjo playing farmhand, and it's clear this is not your average children's animation. In fact, the clever script will be beyond younger kids, but if that's the price you pay to have the story's message about celebrating individuality and family delivered in a more subtle manner than most kids' animations these days, then it is a small one. Fantastic indeed.
Cast: George Clooney, Meryl Streep
Director: Wes Anderson
Running time: 87 mins Rating: PG (Coarse Language)