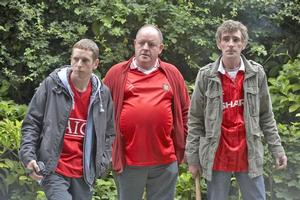 Rating: * * *
Verdict: Tonally jarring blend of glum comedy and violent drama.
An uneasy and not entirely successful blend of the director's trademark social realism, gritty drama and outright whimsical fantasy, this project was both initiated and produced by the 1990s Manchester United legend, Eric Cantona.
Yet fans of the French-born footballer should be warned that he appears in only a few scenes - and even in those he's a figment of the main character's befuddled imagination.
That character is also called Eric, which lends the title a neat ambiguity. Eric Bishop (Evets) is a depressed Manchester postie, whom we meet as he drives deliberately the wrong way round a roundabout.
Saddled with sullen, couch-potato stepsons (Kearns and Gumbs); Eric has realised that he still loves the wife (Bishop) he walked out on years ago; and he spends his days in a dope-addled haze. His colleagues try vainly to lend a hand but nothing much helps until the full-length wall poster of his footballing hero comes to life and starts offering him advice.
The set-up promises a pleasing diversion of the sport-is-life variety, all about the value of teamwork and tactics and the eternal power of friendship. Loach is alive to the magic allure of a game which, says Bishop, lets you "forget the rest of the shit in your life for a few hours" and there are a few moments in the film's first half that recall Riff-Raff and Raining Stones from the director's glory days in the early 90s.
But the film abruptly takes a darker turn as the youngsters get into trouble with local hoods and the process by which they are extricated, though both cathartic and hilarious, is as improbable as it is tonally jarring.
It's far from Loach's best work because it seems to be insubstantial and serious at the same time, but it certainly has its amusing moments.
Peter Calder

Cast: Steve Evets, Eric Cantona, Gerard Kearns, Stefan Gumbs, Stephanie Bishop
Director: Ken Loach
Running time: 116 mins
Rating: R16 (violence, offensive language, drug use)