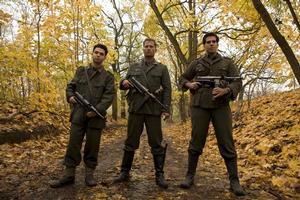 The idea for Inglourious Basterds had gestated in Quentin Tarantino's mind for eight years before the film finally went into production. But once it did he became like a man possessed. Brad Pitt marvelled at how quickly the 46-year-old got the World War II revenge romp together, and at his ability to throw the most unlikely components into his screenplay.
"I knew it instantly upon reading it, these ones don't come along very often," Pitt said. 'I felt very privileged, and that I'd earned this moment!"
After the demands of The Curious Case of Benjamin Button, the world's most famous movie star was happy to take a back seat on the film as he had done on Oceans 11 to 13 and on the Coen Brothers' Burn After Reading. He was going to have a mighty good time.
The good times started one night when he met Tarantino over a drink or three.
"Quentin came to visit some time at the end of last summer with the script," Pitt recalls, "and we talked about it, we talked about movies till the wee hours of the night.
I got up the next morning, and I saw five empty bottles of wine lying on the floor - and something that resembled a smoking apparatus; I don't know what that was," he says in mock innocence. "Apparently I'd agreed to do the movie, because six weeks later, I was in uniform, and I was Lieutenant Aldo Raine. So go figure."
Shooting in Berin, Inglourious Basterds brought together a raft of American, French and German actors who found, after hours, they still had to listen to their talkative director as he showed them his favourite films and told them why. "I personally enjoyed watching him jump up and down more than the movie itself," muses German actor Daniel Bruhl (Good Bye Lenin!), who plays a supposedly heroic German soldier. "The half-hour speech beforehand was like being in a film class."
The German and French cast members speak their own languages in the film. Blonde, handsome Til Schweiger, in fact, is the Brad Pitt of Germany, though he's lived for years in Los Angeles. The film's substitute for Tarantino's usual muse, Uma Thurman, is young French star, 26-year-old Melanie Laurent. Clearly the pair got on well, as Laurent has a gift of the gab too. Incredibly, she only spoke very rusty schoolgirl English when she auditioned.
"I just lied for the casting and I took four days of English lessons before the shoot," she recalls cheekily. "The character is French and she speaks in French, so you really only have to understand what the director says to you."
Laurent and the unknown 52-year-old German actor, Christoph Landa, have the biggest roles in the film. Landa, who took out the Cannes best actor prize, portrays the surliest of Nazis whose initial mission is to kill off Laurent's Jewish family.
She survives and makes it her life goal to exact revenge. Irish-German actor Michael Fassbender (Hunger) and Mike Myers play foppish British military men of the kind we see in old war movies.
"I'm the biggest Quentin Tarantino fan that you'll find," Myers declares. The Canadian who rose to fame as British hipster Austin Powers, relished the chance to perfect a different kind of English accent as General Ed Fenech.
"My parents were born in Liverpool, England," he explains. "My father was in the Royal Engineers and my mother was in the Royal Air Force - she was one of those ladies who had a big map and would go, 'Jerrys over Norfolk! Scramble Beacon Hill!"' he says, suddenly regaining his formidable accent. "We talked about the war constantly at the dinner table. So when I got a call asking if I would like to play a British general I was so happy I did a jig. World War II films are a fascinating genre."
In the same way that the British fops are lampooned in the film, so too are the violent Nazi-hunting "basterds". It probably fits that horror director Eli Roth (Cabin Fever, Hostel 1 and 2) should be the most horrific as the baseball bat-wielding Donnie Donowitz, nicknamed "The Bear Jew". He looks hairy too.
"Yeah I wolfed out; there was no money in the budget for waxing," Roth chuckles.
The handsome fast-talking expletive-loving American could easily be Tarantino's younger brother. He can act, too, though feels more comfortable behind the camera.
Widely quoted in Cannes for calling the movie "kosher porn", Roth - who has delivered a fair amount of screen blood in his own films - says the violent role took it out of him.
"I couldn't just be beating a Nazi to death. I had to feel this is for all the Jews, for all my family members who did not get out of Europe and were killed. This is serous shit to me. I'd been learning about the Holocaust since I was five years old, and had to dredge up some of the most painful parts to do this role.
"At the end of the day I couldn't turn it off and it took me a long time to get over it after the film finished. I remember Brad telling me how he lost a kid in Babel and was running around crying for months. It was hard to come back from."
What: Inglourious Basterds, Quentin Tarantino's revisionist World War II revenge flick
When & where: Opens in cinemas today