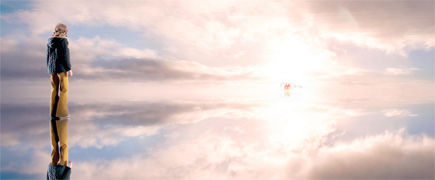 Here's what heaven looks like, according to Peter Jackson. This is the first shot released from Jackson's adaptation of Alice Sebold's The Lovely Bones, showing lead character Susie Salmon (Saoirse Ronan) in heaven, from where she narrates much of the story about her murder and its aftermath.
In an interview with USA Today this week, Jackson said the film is probably the hardest he's ever made and one of the most personal ones too.
"I always make films for myself to some degree - this book affected me when I read it, and the film very much depicts the way in which I was affected by the story, characters and content. It's a very personal film, rather than an attempt to please everyone who enjoyed the book, which is an impossible task."
The Lovely Bones is due out at the end of the year, just in time for Oscar season.
Meanwhile, Jackson, as producer of The Hobbit and its director Guillermo Del Toro say the two films they will make from J.R.R. Tolkien's tale of Bilbo Baggins will be the original story split into two films - and not one film of the book followed by a sequel linking it to the start of The Lord of the Rings.
"We decided it would be a mistake to try to cram everything into one movie," Jackson told Britain's Empire magazine. The essential brief was to do The Hobbit, and it allows us to make The Hobbit in a little more style, if you like, of the trilogy."
The Hobbit films are due out in 2010 and 2011.