Legend's son had a blast in first rally, writes Eric Thompson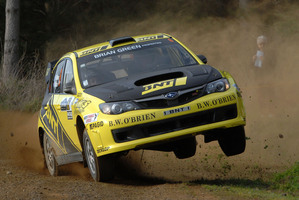 All eyes may have been on the late Peter "Possum" Bourne's 18-year-old son, Taylor, in his first rally, but other contenders were looking at winning a national title.
Husband and wife pairing of Richard and Sara Mason made the most of the one-day event to move back into championship contention.
The Possum Bourne Memorial Rally is the penultimate round of the New Zealand Rally Championship and it's looking tight with just Rally Wairarapa to go on October 5.
Slipping and sliding their way through and over the roads of the Maramarua Forest, the Hampton Downs and Pukekohe Park race circuits, and a section of sealed road east of Auckland's Papakura, the Masons held off Ben Hunt and co-driver Tony Rawstorn, with Sloan Cox and Sarah Coatsworth rounding out the podium.
The four-time NZRC champions, who won six stages, are now poised a mere five points behind Hayden Paddon and are within touching distance of series leader Hunt who's another nine points in the lead.
"It's great to have a win again," said Mason. "We had some significant issues this morning, from a major misfire in the engine for quite a while, no power steering at one stage and had to change the gearbox after losing third gear.
"So to come out on top after taking all that into consideration is just awesome. Rallying is like that. You can have some trouble, overcome it, and can still come away with a result."
After a couple of impressive results in Europe in the WRC2 class, Paddon and co-driver John Kennard were hoping to re-establish themselves as championship leaders after missing the previous two rounds. Despite being on the podium in Finland and Germany in their Skoda, the return to New Zealand didn't quite work out the way the team planned.
"It started badly for us on the first stage, which set the tone for the rest of the day after I attacked a jump too much," said Paddon. "The landing was very heavy and the impact smashed the rear sump frame, diff, bent most rear suspension arms and damaged the gearbox."
The battle for 2WD supremacy went to Josh Marston and co-driver Mal Peden who continued their season-long tit-for-tat battle with Phil Campbell and Venita Fabbro, who still hold the overall series lead.
For first time competitor Bourne, with his stepdad Mark Mitchell reading the notes, Saturday's event was "scary but good fun".
"I was getting a bit faster as the day went on until I had a bit of drama on the second run through Ridge Road where I had to decide between the bank or the cliff," said Bourne.
"It's been a real eye-opener and I've never got so much time out of one day. It was the longest day of my life. I found the gravel stages of the rally the hardest but they were my favourite.
"I'm now going to have a whole lot of new respect when I watch videos of dad, because he's going about 10 times faster than I was going and attacking each corner just about flat out," he said.
Driving a Subaru STi prepared by Possum Bourne Motorsport, the 18-year-old finished in 45th place from a field of 53 racers.
"I was so incredibly proud when the two of them crossed the line at the end of the rally," said his mum, Peggy Bourne. "I think I laughed most of the rally because instead of running to see the first cars finish, I was running back to see where they had finished.
"We're so proud of him [Taylor] as he set a goal and went out there and achieved it.
"What was funny though, is I went up to Mark, gave him a hug and said, 'That's your initiation to rallying'. And all he said was, 'Yep, and that's my retirement as well'.
"Everyone took Taylor under their wing and Hayden Paddon, Ben Hunt, Richard Mason and his wife and all the Australians who were in Possum's team who came over all encouraged Taylor so much.
"He really got to understand what this rally family is all about."

Championship after five rounds
1 Ben Hunt 109
2 Hayden Paddon 100
3 Richard Mason 95
4 Chris West 78
5 Matt Summerfield 35
6 Matt Jansen 30
7= Sloan Cox 23
7= Brian Green 23
7=Matt van Tuinen23