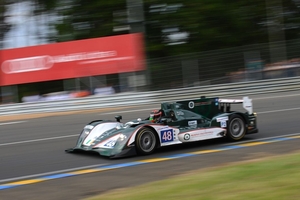 New Zealand sports car racer Brendon Hartley has handed back the keys to the Mercedes AMG Petronas Formula One car he raced up the hill at Goodwood, England, last weekend.
He packed his bag during the week and took off to Austria and is suiting up for round three of his European Le Mans Series championship at the Red Bull Ring.
The former Red Bull Racing junior development driver has been either on the pace or leading his class every time he jumps in either his LMP2 car in Europe, or the Daytona Prototype in the United States.
However, he has been beset in recent races by mechanical gremlins or driver error.
"I was pretty quick in the wet at Silverstone [round one] and stormed to the front," said Hartley.
"I had a hefty lead but the rain kept getting heavier and I spun off. The thing about that race, though, is just about everyone went off and the race was eventually red-flagged."
At round two in Imola, the weekend started off well with Hartley qualifying third, but owing to starter motor problems during the pit stops the team had to settle for sixth at the end.
"I was really happy with the job I did; the pace of the car was good. In the first stint I was all over P1, the Jota car, and put a lot of pressure on him. We were right on his gearbox.
"However, we had a problem during pretty much every stop, basically we lost two laps trying to start the car," said Hartley.
The flying Kiwi is out to make amends this weekend and has a new co-driver, Jonathan Hirschi, to share duties with. Hartley is quietly confident that this time they're in with more than an even chance to get on the podium, if not take the win.
"I've got a new co-driver for this weekend and he's pretty quick. My other drivers have been fast but Jonathan has a reputation for being on the pace early on so we could be in with a chance of a win.
"The car's been good and if everything goes according to plan we'll have a good result."
The 23-year-old has been racing in Europe for the past seven years and has ticked off more race tracks both on the continent, and now in America, than you can poke a stick at. However, the Red Bull Ring, or as most race fans know it, the A1 Ring where the Austrian Formula One Grand Prix was held for many years, is a circuit Hartley has yet to experience in the flesh.
"You'd think by now I'd have raced on the Red Bull Ring but it's one of the few tracks in Europe I've not been on yet. I did, however, spend hours on it using video games growing up when it was called the A1 Ring.
"It was my favourite Grand Prix race track so I reckon I've got a good idea which way around it goes and know it well in my head. I've never been bothered about turning up at a track I haven't been to before and can normally get my head around them pretty quickly.
"It's a challenge I like and we'll be okay," said Hartley.
He sits eighth in the ELMS championship after the opening rounds, and while he's especially keen to get his first win the category, points and his position on the series table aren't a high priority. It's the win he wants to increase his profile in the hope of getting more work behind the steering wheel next year.
Hartley also has a fulltime gig in America racing for the Starworks team in the Grand Am Rolex series in a Daytona Prototype, which if his form continues may lead to other things.
"Of course I want the win or at least be on the podium but the chances of winning the championship are pretty remote. It won't be because of any lack of trying, it's just the last couple of rounds clash with my commitments in America.
"There might be - nothing has been organised yet - a chance to do more in America now that the Grand Am and the American Le Mans series have merged. The new United Sports Car Racing championship will be a big deal over there," said Hartley.
Sports car racing worldwide is becoming more popular with an increasing number of manufacturers joining its ranks. Hartley could be well positioned, on both sides of the Atlantic, to carve out a good niche for himself the way he's going.