Despite a debilitating injury, our champ soldiers on, writes Andy McGechan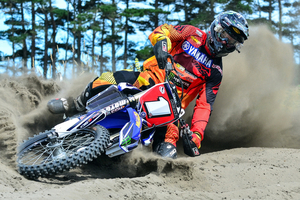 American national champion Paul Whibley, from Pahiatua, is gritting his teeth and fighting on, despite barely being able to hold on to his powerful dirt bike.
The 34-year-old former Manawatu forestry worker, affectionately dubbed "The Axeman" on the international off-road motorcycling scene, won two major cross-country titles in the United States last season, clinching the Grand National Cross-country Championships (GNCC) and the Off-Road Motorcycle and ATV (OMA) crown as well, but his 2013 campaign to defend both titles is proving to be a little tougher than he would like.
Although handicapped by a debilitating hand injury, the Yamaha ace finished fifth overall at the fourth round of 13 in the 2013 GNCC series at Big Buck, in Union, South Carolina.
Unfortunately, that result also means he has slipped from fifth to sixth overall after four rounds and the task ahead seems an ominous one. Whibley (Yamaha YZ450F) gave himself the best possible start in South Carolina with one of his now trademark hole-shots, but he soon had series leaders Charlie Mullins (KTM) and Kailub Russell (KTM) hot on his tail.
Russell took the lead, with Whibley and Mullins scrapping over the No2 spot.
In great pain because of the injury suffered two weeks earlier, defending US champion Whibley began to slip back and American rider Chris Bach passed him with just two laps remaining.
Fellow Kiwi Rory Mead (KTM), of Wellington, managed to complete only four of the seven laps before he withdrew from the race, although that was still good enough for him to rate 12th overall in the XC1 Pro class.
Mead took a Yamaha YZ450F to win the New Zealand enduro championships outright in 2011 before embarking on a brief cross-country racing expedition to the US last season. This season will be his first full US campaign.
The intrepid Kiwis are now looking forward to round five of the GNCC series at The Mammoth Park City, in Kentucky, this weekend. Whibley is no stranger to adversity and, while his Yamaha continues to fire up and shred the soil, the fight will continue. He has been a front-runner for the American off-road crown for every one of the nearly eight years he has raced in that part of the world and believes there is no reason why he should not be in line for another podium finish this season.
Whibley's career record in the American GNCC competition is impressive. Following a couple of seasons racing the World Enduro Championships in Europe, Whibley finished fifth on GNCC debut in 2006; was ranked No6 the following season; was runner-up to Isle of Man rider David Knight in 2008 and won the crown in 2009.
He wound up third overall behind Australian Josh Strang and American Charlie Mullins in 2010 and was runner-up to Mullins in 2011 before winning again last year.
Whibley is also a five-time OMA (Off-Road Motorcycle and ATV series) champion, a two-time Australian Enduro Champion, a two-time New Zealand Enduro Champion, a two-time New Zealand Cross-country Champion and a former New Zealand GNCC Champion and he has three International Six Days Enduro gold medals. He is supported by Monster Energy, Sargent Yamaha in Masterton, MotoSR suspension, BikesportNZ.com, Graphic MX Creation and Yamaha Motor New Zealand.