Halliday's career takes a jump as he signs to race in European endurance series.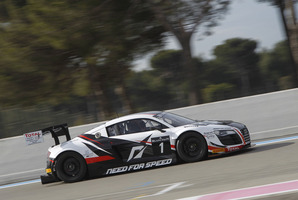 US-domiciled Kiwi racecar driver Matt Halliday has signed a deal to contest the European Blancpain Endurance Series for the Belgian Audi Club Team WRT.
The three-car team will compete in the new Audi R8 LMS Ultra GT3 against the world's top manufacturers and drivers.
As part of the overall endurance series, Halliday has been confirmed as a driver in the Total 24 Hours of Spa-Francorchamps.
For the past five years Halliday has been based in Los Angeles, from where he has commuted to races in New Zealand, Australia and Europe.
Last year he was racing in the FIA GT1 sports car championship, winning the first race, at Zolder in Belgium, from pole.
Before his move to the FIA GT1 championship, Halliday raced in the Mobil One Porsche SuperCup series. Before that, the former New Zealand Porsche GT3 Cup Challenge front-runner spent two seasons sharing driving duties in New Zealand's A1GP World Cup of Motorsport car with Jonny Reid.
Just as things were heating up in the GT1 championship, the team pulled out of the series.
"It was a disappointment but I've been in this game long enough to know racing is a tough, tough business," said Halliday.
"As a driver you're at the mercy of what's going on with the teams and sponsors you drive with. Nothing is ever guaranteed but I took the opportunity while it was there and had some really great results and made a few people take notice.
"You can't lose sleep over it and you just move on."
And move on Halliday has, with his new gig in the Audi Sport customer racing team WRT.
Having been a regular Porsche competitor, Halliday's switch to Audi signifies a dramatic change in direction in his racing career.
"After competing against WRT last year in the FIA GT1 World Championship and getting a glimpse from the outside as to how professional a team they are, and combined with Audi's focus and worldwide push in GT racing, it was a target during the off-season to fight for an opportunity to drive for them," he said.
The championship features teams from most of the world's high-performance vehicle manufacturers including Audi, Ferrari, McLaren, Lamborghini, BMW, Aston Martin, Mercedes, Porsche and Nissan.
The opening round is at Italy's Monza circuit this weekend. Thirty-five teams have entered 60 cars, confirming the series' popularity.
"From the moment I first spoke with team owner Vincent Vosse to getting in the car for testing at Paul Ricard and Monza a few weeks ago, it has been a great experience to work with a team at this level as well as very exciting," said Halliday.
"Hopefully we can have a strong year together and use that to form a longer term partnership with both the team and Audi." His co-drivers for the five-round endurance championship will be Austrian racing star Nikolaus Mayr-Melnhof and highly rated Swiss DTM female driver Rahel Frey.
The WRT outfit is off to a great start to the GT1 season, finishing first and second in Nogaro, France, for the first of the GT1 rounds.
Said Vosse: "Having seen Matt active in some great things in GT1 last year, and to get to work with a driver with his level of experience is great for the whole team. We are looking forward to a great 2013 season."


Blancpain endurance series:
• Round 1: April 14, Monza, Italy (3 hours)
• Round 2: June 2, Silverstone, Great Britain (3 hours)
• Round 3: June 30, Paul Ricard, France (3 hours)
• Round 4: July 27-28, Spa-Francorchamps, Belgium (24 hours)
• Round 5: September 22, Nurburgring, Germany (1000km)