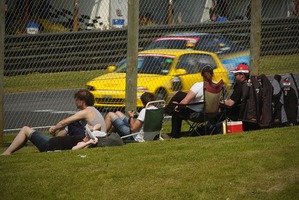 Motor-racing fans are urged to minimise their carbon footprint - and avoid parking hassles - by taking free trains or buses to the V8 Supercars in Pukekohe.
The free rides will be covered by ticket prices for the three-day petrol-head festival starting this morning and will include travel in trains running every 15 minutes from 5.30am to 10am from Britomart each day of the event. Buses will also run at that frequency from North Shore to Pukekohe.
And diehard sports fans can catch free buses from Pukekohe Park Raceway to Eden Park for the Blues v Hurricanes rugby kick-off at 7.35pm tomorrow.
The Supercars are expected to attract crowds of up to 30,000 people to today's practice rounds, and 50,000 over each of the two following days.
Auckland Council's events and transport organisations expect about 25 per cent to use trains or buses, leaving scarce parking around the raceway for fans from further away, such as the Waikato.
Although train passengers face a 1.4km walk to the raceway from Pukekohe Station, Auckland Tourism, Events and Economic Development spokesman Chris Gregory said they would be treated to plenty of entertainment and refreshments along a "fan trail" - including pies baked in the shape of V8 cars. Mathew Dearnaley
For special timetable information