He's known as the pretty boy of racing but Kiwi driver Fabian Coulthard is out to prove he's more than his good looks. Back in Auckland for this weekend's V8 supercar races, he talks to Suzanne McFadden about his love for speed and the famous crash that almost killed him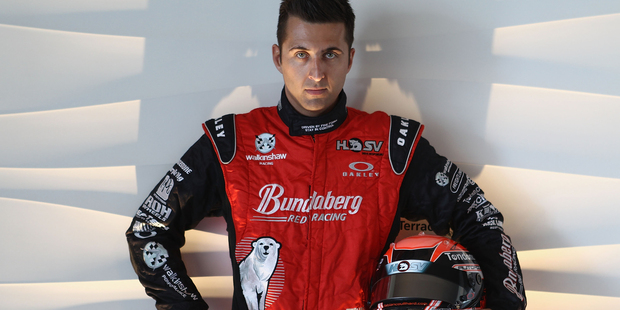 Fabian Coulthard has eyes the colour of green sea-glass, olive skin and a fine specimen of a Roman nose. Nicknamed "Fabulous" by his motor-racing teammates, he also has a stunning girlfriend - a model, grid girl and Miss World hopeful.
Whether he likes it or not, Coulthard has been dubbed the pretty boy of V8 Supercars, but the Kiwi driver is determined not to be recognised simply for his handsome face, or his apparent immunity to helmet hair.
Nor does he wish to ride on the back of his famous motor-racing surname - his second cousin and Formula One legend, Scotsman David Coulthard.
And he certainly has no wish to be remembered as that lucky guy - still racking up thousands of hits on YouTube for his incredible exploit in 2010, walking away unscathed from a six-roll, high-speed crash on the opening lap of the "Great Race", the Bathurst 1000.
So what is it then that Coulthard wants to be known for? "I want to win races," he says.
"I'd love to win Bathurst, I'd love to win the [V8 Supercar] championship." And he says it with a self-assurance that it will happen; that it's only a matter of time.
And this could well be his time. At 30, his skills behind the wheel are steering him closer to his ambitions. Scoring his first official V8 race victory in Tasmania last weekend - backed up by a second win the next day - seriously boosted his odds to dominate on his home track, Pukekohe, this weekend.
Even the King of Pukekohe, Greg Murphy, reckons this could be Coulthard's year to break away from the pack. "Murph", a four-time Bathurst winner who dominated this track at the start of the millennium, believes a New Zealand driver could well stand atop the podium at this latest round of the Australasian supercar championships, as the race returns to Pukekohe Park Raceway after a six-year absence.
"Fabs is one of those guys with a huge amount of talent and ability, who's been bashing around the fringes of big success for a while now. This year the changes to V8 supercars have given him the chance to take it to the next level. Confidence is the best tool in his toolbox, and it will come immensely fast to him now he has the taste of success," says Murphy.
"He also has, by far, the coolest hair in the pit lane. I've never seen anyone who gets out of his car, takes off his helmet and still have perfect hair. It makes me quiver."
The admiration is mutual. As an awestruck 13-year-old, Coulthard got Murphy to autograph his wallet after Murphy's first V8 success at Pukekohe in 1996. But even then, Coulthard was making his own tracks in motorsport.
The precocious teenager was well on his way to winning his four New Zealand go-karting titles, and had graduated to a scholarship with New Zealand Formula Vee - the highly competitive entry level of single-seater racing - finishing runner-up at the tender age of 12.
Born in the English football town of Burnley, Coulthard arrived in Auckland just before his first birthday with his parents Riki, a toolmaker, and Carol, a hairdresser. "They basically wanted to give me a better life," Coulthard says.
It had been car-mad Riki Coulthard's dream to be a racing driver. "But unfortunately he couldn't afford it," his son says. "So one day he took me down to a kart track and asked if I'd like to have a go. They say speed is a drug, and I was hooked from then on." He was 5 years old.
"Dad wanted me to have my own kart at 5, but Mum put the handbrake on. At 6.45am on my 6th birthday, there was a kart. It was red, to go faster."
After "a little illegal driving" in the Glenfield Mall carpark, Coulthard began his racing career at the Mt Wellington Kart Club track. He started on the same weekend as a red-headed 7-year-old named Scott Dixon, who went on to be an IndyCar legend in the United States.
Despite flipping his kart on his second attempt - his "livid" mother wanted him to quit there and then - Coulthard was smitten with speed.
"I've raced from there on in. One day go-karts, the next V8s. It's been a cool ride," he says.
Like all young speed freaks, Coulthard had his heart set on racing Formula One. "There's some crazy statistic like 285,000 - or some ridiculous number - drivers in the world vying for 22 spots in Formula One. If you don't get the lucky breaks, the odds are stacked against you," he says.
After winning the Formula Ford championship and the Jim Clark Trophy (for New Zealand's most outstanding motor-racing driver), he got his break in 2003 - to race in England in the British Formula Renault championship. But luck didn't go his way.
"I was racing a car I didn't know; I was learning on the fly and you can't afford to do that," Coulthard says. Before the series ended, his funding ran dry, forcing him to come home.
"It's my only regret; my one and only shot, and I was annoyed when I had to return. I felt I had so much to offer. Two other guys - Lewis Hamilton and Paul di Resta - went on to Formula One. It's still a hard pill to swallow."
He wasn't about to ask his cousin, David Coulthard, winner of 13 grand prix, for any favours either.
"I've only met him once. It's all well and good having a famous relative, but it can be more of a hindrance than a help when you're always expected to deliver. I've never received financial support from him or guidance. I've done it all myself," he says.
"And it's too late for me in Formula One now. Being six foot two and 80kg, I am, believe it or not, too big - and at 30, I'm too old."
But touring cars now provide the rush he craves.
"Supercars are a pretty awesome lifestyle. It's the premier category in Australasia and there are a lot of people wanting to get into it. It's close to home. Look at Murph - he's an icon in New Zealand. I'm not unhappy with my lot."
It was Murphy who gave him his next big opportunity - inviting him to join his team in the Porsche Carrera Cup, the main support category for V8s, in 2004. He won it convincingly the next year. Around the same time, he got a taste for V8 racing, teaming up with fellow Kiwi, the late Jason Richards, to compete at the Sandown and Bathurst endurance races.
Over the past six seasons, Coulthard has been a fulltime V8 Supercars driver in Australia, but he's struggled to find his niche on the grid.
Bathurst has baffled him year after year. Last year, he qualified second fastest, but his co-driver lost control in gravel halfway through the 161-lap classic. And the Kiwi will never live down the spectacular crash of 2010; asked about it so often, he keeps the video on his mobile phone.
Coulthard's Commodore VE was hit from behind on the opening lap, and his left rear tyre deflated then left its rim at the fastest part of the Mt Panorama circuit as he barrelled through at 280kmph.
"It was inevitable I'd roll when I hit the gravel on that corner - I'd prepared myself for that. I just didn't know how long it would go for, or if I'd hit something hard. It's the sudden stop that gets you," he says.
On its sixth tumble, what was left of the car landed the right way up.
"I hopped out and it was as if no one was there; it was deadly silence. And then a massive cheer went up when they saw I was in one piece." As was his perfectly coiffed hair - or so the ribbing goes.
He's never let the memory of the crash impede his driving. "The fact I got out of it unscathed shows just how good, how strong, these cars are. The car did its job, it took the impact, everything flew off it as it should. But I know it could have gone the other way."
After switching teams every two years, Coulthard finally "feels at home" with Brad Jones Racing, a small Australian team run by former racing brothers Brad and Kim Jones.
Coulthard lives in Melbourne, but once a week drives three hours north to Albury, on the Murray River, where Brad Jones Racing is based with its three V8 racing teams. Off the track, Coulthard is a Holden ambassador, driving a luxury HSV GTS, and assures me he sticks to the speed limit: "I'm a big advocate of cruise control."
Brad Jones signed Coulthard last year for the Lockwood Racing team, impressed by the New Zealander's speed and composure at the wheel.
"He's a driver who rarely makes mistakes. He's very, very good under pressure, and very fast. In qualifying he can pull out that extra little something to climb up the grid," says Jones.
"There's a bit of an art to winning races, and you need to win a couple once you get a taste for it. He's got over that hurdle now, and I'm hoping it's the start of a purple patch for him, and us."
Two victories in the Tasmanian round last weekend, stealing the first from defending champion Jamie Whincup, came hot on the tailpipe of his blistering three race wins at the Australian Grand Prix - a non-championship event - last month. The weekend at Symmons Plains, near Launceston, was a clean sweep for Brad Jones Racing, with Coulthard's Aussie teammate Jason Bright winning the other race; the Kiwi driver accelerating up to seventh overall in the championship stakes.
It was the confidence boost Coulthard had been hankering for. "The monkey is off my back. I am known as a race winner now," he says.
The grand prix triumph was an emotional one - the first time he had claimed a pole position on the startline - and one he dedicated to Richards, who died in December 2011 from the rare and aggressive cancer, adrenocortical carcinoma.
On the b-pillar, between the driver and the rear door, of Coulthard's VF Commodore, is a decal of the Jason Richards star designed in memory of the Kiwi driver. "I always make a conscious effort to touch it when I get into the car. Jason was a massive inspiration to me, right back to our karting days," he says. The Jason Richards Trophy will be up for grabs at Pukekohe this weekend.
Coulthard's recent success has also been a victory for the "little guy". In recent years, the supercar championship has been dominated by the big-budget teams, but the introduction this year of "the car of the future" - regulations to bring down the cost of a new car - has levelled the playing field.
"Last year Brighty and I had old machinery. I was driving a 2007 car. Now we have new cars, the same as everyone else's," Coulthard says.
The past two years have been prosperous off the track, too, with Coulthard in a solid relationship with Australian model Becky Lamb. He met her at the racetrack,
and although she had no idea about supercars before, she is now a certified member of his support crew.
"For a girl to develop a genuine interest in your sport is awesome. It's so good to have her support when I'm away so much. But at the same time she's well established in her own field of work; she doesn't live her life through mine," he says. As well as a successful career as a "girl-next-door" model, Lamb has been a part-time fire-fighter with Fire and Rescue New South Wales, a grid girl at the racetrack and was runner-up in last year's Miss World Australia contest.
Coulthard's parents, who "invested so much" in their only child's career, will be in the grandstand at the ITM 400 Auckland this weekend, cheering him on.
As one of four New Zealand drivers on the grid - alongside the competitive Shane van Gisbergen, teenage rookie Scott McLaughlin and former A1GP driver Jonny Reid - Coulthard believes a little home crowd support at the $6.6 million upgraded Pukekohe Park circuit will go a long way.
"I don't believe in a home track advantage," he says. "But the support of the locals wanting you to do well drives you on."
The King of Pukekohe agrees. "The chance of a Kiwi winning here is very high. Something strange happens, something drives you," says Murphy.
All Coulthard has to do to win, he says, is do what he does best: "Drive his car fast."
The roar of the crowd should do the rest.