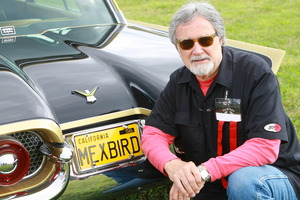 In the world of custom cars and hot rods the name Pete Chapouris needs no introduction. Since the late 1990s the American hot rod icon has built cars and sold parts under the legendary SO-CAL Speed Shop banner.
Chapouris might not be SO-CAL's original owner, but a reputation that first began on the boulevards of El Monte, Los Angeles, during hot rodding's heyday in mid-1950s, precedes him.
The multiple hot rod hall of fame inductee was in Hahei over the weekend with two SO-CAL Speed Shop creations shipped in from California especially for the Leadfoot Festival: the company's iconic white and red '32 Ford Hiboy Roadster - a modern-day take on a classic-style rod featuring an all-steel Brookville reproduction body and a 6.3-litre small block Chevrolet V8 engine - and the Mexican Blackbird - a '58 Ford Thunderbird better known as one-part of ZZ Top guitarist Billy Gibbons' eclectic collection of custom cars.
"This place is so sweet," he told Driven.
"I'm so proud of Rod for what he's done here - the sharing really is above and beyond the call of duty. I don't know a whole lot about all the types of cars here as I'm a hot rod guy, but I learned more this weekend than going to Goodward [Festival of Speed] or any of the other events I've been to in the past so that says a lot. It's been wonderful - I just loved it."