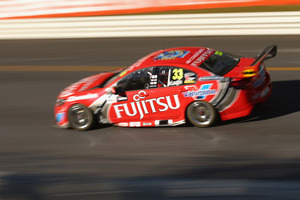 New Zealand again gate crashed one of Australian motorsport's biggest parties when teenager Scott McLaughlin ensured Kiwis completed a clean sweep of the V8 Supercars four-race exhibition round at Albert Park on Sunday.
Confirming his status as the driver to watch in 2013, 19-year-old McLaughlin took out the fourth and final V8 race at the Australian Grand Prix almost two seconds ahead of series leader Craig Lowndes with fellow Kiwi Fabian Coulthard third.
McLaughlin - the reigning second-tier Dunlop Series champion - started from seventh on the grid but expertly worked his way through the field and pounced on Coulthard after the pole sitter took his compulsory pit stop on the fifth of the race's 12 laps.
It maintained New Zealand's remarkable - and sometimes controversial - run at Melbourne.
Victory was savoured by Holden driver Coulthard before the finale could even start after a technical breach wiped some of V8 Supercars' biggest names from the race three result sheet.
Coulthard finished fourth in race three on Saturday behind fellow flying Kiwi Shane van Gisbergen who claimed line honours.
However, Coulthard on Sunday was elevated to first by officials after eight big name drivers were excluded from race three results due to the breach.
The list of affected drivers read like a "who's who'' of the category - van Gisbergen, Lowndes, four-time champion Jamie Whincup, Bathurst winner Todd Kelly, Michael Caruso, Jonathan Webb, Scott Pye and Dean Fiore.
Officials said the drivers were punished for "an accidental setting of the ignition timing''.
Nissan driver Kelly said no advantage would have been gained by any of the eight drivers but acknowledged it was technically a breach.
"The actual breach is of no real significance whatsoever performance wise but it is a breach of the rules so I respect the action that they've taken,'' he said.
- AAP