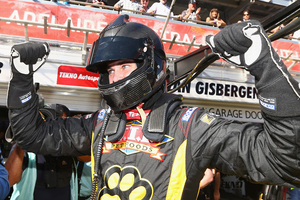 Qualifying for race two at the opening round of the V8 Supercars in Adelaide was a case of déjà vu.
After 20 frantic minutes, in a repeat of yesterday's top-10 shoot out, Kiwi driver Shane van Gisbergen was on pole with Mark Winterbotton alongside.
Also continuing their good qualifying form were two other Kiwis with Fabian Coulthard in fifth and revelation of the weekend Scott McLaughlin in seventh. Fourth New Zealander in the V8 Supercars pack Jonny Reid improved to 26th in a car that was only finished days before the event.
Race one winner Craig Lowndes could only manage eighth while his Red Bull Racing Australia teammate and defend champion Jamie Whincup put in a flyer to sit third on the grid.
Coulthard will be hoping his team solved his brake fade problems from yesterday. The Kiwi was on track for a podium finish until late in the race when his brake pedal hit the floor and he had to retire.
Van Gisbergen will want to make amends for his poor start from pole yesterday where he was swamped by the pack when the lights went out. After fighting back through the field to get inside the top three, van Gisbergen's car developed gearbox issues and he too had to withdraw from the fray.
McLaughlin showed his magnificent sixth place in race one on debut was no fluke and again proved he has the skill sets to mix it with the best qualifying seventh. Team owner Gary Rodgers must be rubbing his hands in glee at thought of another top-10 finish for both his charges, as Alexandre Premat qualified in sixth place.
As expected, race one yesterday was a war of attrition as it was the first time the new COFT had been used in anger. Winterbottom will be looking for revenge this afternoon after his car became stuck in second gear forcing him into the pits while leading.
New manufacturers to the championship, Nissan and Mercedes AMG, haven't been having the best of weekends so far. However, 78 laps is a long way and hopefully they've found a bit more horsepower and reliability to move up through the field after qualifying in 19th, 23rd and 24th (Nissan) and 27th and 28th (Mercedes AMG).