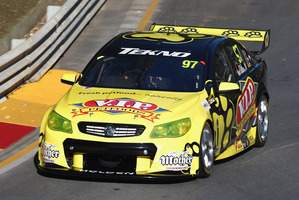 The acrimonious split between Stone Brothers Racing (SBR) and returning New Zealand V8 Supercars racer Shane van Gisbergen continued to rumble in the background at the opening round of the 2013 championship.
In the run up to the Clipsal 500, it was strongly rumoured van Gisbergen was about to be slapped with an injunction to stop him racing due to an alleged breach of his termination contract not to race V8 Supercars for a year.
Nothing like that happened - and van Gisbergen took his new Car of the Future and promptly plonked it on pole for yesterday's first race.
At the press conference, van Gisbergen refused to be drawn on any queries about possible legal action and repeatedly said: "I'm just here to go racing and not commenting on any of the other stuff."
He tried to let his racing do the talking but, in race one, fluffed his start from pole and had to settle for 10th at the end of lap one. He fought back - at half race distance there were two Kiwis in the top three, Fabian Coulthard and van Gisbergen with Craig Lowndes holding a handy 18 second lead.
But van Gisbergen's march up the table ended on lap 66 after the car was parked up, stuck in gear.
The initial feeling about the new 'Car Of The Future' will be: fast but fragile after race one of the of the opening round of the 2013 V8 Supercars series on the streets of Adelaide.
Triple Eight driver Lowndes made the most of the high attrition rate to lead the field home from FPR's Will Davison and defending champion Jamie Whincup.
"It's been sensational. It's been one hell of a day and one hell of a weekend so far. I can honestly say it's the best COTF car I've ever raced," said a laughing Lowndes. "The car suits my style a bit better than last year's but there is more to come."
The opening laps were a fraught time for a number of teams with a Mercedes AMG having to be push-started at the start of the warm-up lap, two Fords into the pits with gearbox issues and a Nissan with oil line problems.
Meanwhile, up front Coulthard proceeded on his merry way keeping Lowndes and Whincup at bay. But he experienced brake problems and slowly sunk down the table from a fighting second to finish 19th.
"What can you do, it's out of my control," said a philosophical Coulthard. "We had the speed and were staying with the guys at the front. It just wasn't meant to be."
New Kiwi to the main game Scott McLaughlin stayed out of trouble and comfortably circulated inside the top 10 all day - finishing an outstanding sixth on debut in the main game.
"I can't say much, I'm just very happy," said McLaughlin. "The car was great and it's all credit to the entire team who've built me a great car. They gave me the opportunity and I'm just glad I could repay them."
As for van Gisbergen and the prospect of court rather than car action, the Herald on Sunday sat down with Ross Stone in the team's three-car pit garage and asked him about possible legal action - but hit the same stone wall.
"We released a statement last year and that's what we're sticking with," said Stone. "So no comment. What is incredible, though, is that we managed to build three complete race cars in 109 days and got all three through Friday's action to make the grid for the first race of the season."
What makes that feat more remarkable is the fact these new cars are not even remotely similar to the Fords Ross and Jimmy Stone built and raced to such great success since 1998 - winning three championships along the way.
"To get an all new car, and an engine developed and tested in that short a time, is a huge credit to everyone in the team," said Stone.
The team saw Tim Slade finish 15th, Lee Holdsworth 17th, and Maro Engel 24th.