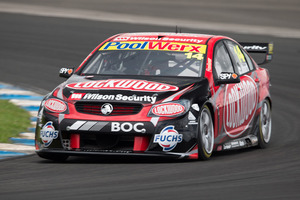 V8 Supercar racing will be seen live in New Zealand after SKY Television was awarded the media rights to the Championship for the next five years, starting with six and a half hours coverage of this weekend's blockbuster Clipsal 500 in Adelaide.
SKY Television secured the five-year broadcast rights to televise all V8 Supercar Championship events in New Zealand. The agreement spans to the end of 2017.
"We are delighted our approach to SKY has led to this new partnership as our ever-growing New Zealand fan base is incredibly important to us. We are certain partnering with SKY ensures the ultimate package for the fans, the sport, our teams and our invaluable partners," V8 Supercar CEO David Malone said.
All V8 Supercar races will be broadcast live on SKY Television on Saturdays and Sunday. Signature events, including this weekend's Clipsal 500, will also feature Friday coverage.
SKY will broadcast both 250 km races live from Adelaide this Saturday and Sunday; as well as qualifying and the Top Ten Shootout on Friday.
"In more recent times the time difference between New Zealand and many of our events has been problematic for our New Zealand viewers on free to air television," Mr Malone said.
"The agreement with SKY Television delivers full coverage of all races across the season. This was particularly imperative for us when we began the negotiations.
"For these reasons SKY Television is a fantastic broadcast partner for our sport in New Zealand."
The V8 Supercar Championship commences with the epic Clipsal 500 where 28 brand new cars and four manufacturers - Holden, Ford, Mercedes and Nissan - go head to head for the first time.
Kiwi motorsport fans will be able to support the four New Zealand drivers Shane van Gisbergen, Scott McLaughlin, Fabian Coulthard and former A1GP driver Jonny Reid on the grid. Kiwi great Greg Murphy will also drive for the Holden Racing Team in the Endurance Cup.
Murphy is also vying for a place on the grid at the ITM400 Auckland in April if he can secure backing to enter a Holden Racing Team supported wild card entry.