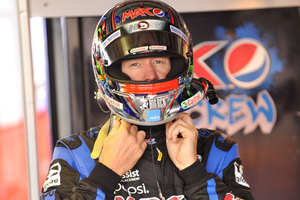 A fired up and refreshed Greg Murphy is eyeing up his first domestic New Zealand title for more than 17 years this season, in the V8 SuperTourers championship starting this weekend.
The four-time Bathurst 1000 winner is fully fit and hopes to put the frustrations of 2012 behind him when he finished 28th in the V8 Supercars championship and missed several races due to the relapse of an old back injury after a crash at the Clipsal 500. Murphy was also released by Kelly Racing after two years with the outfit but had a better time of it in the inaugural V8 SuperTourers.
Murphy won the first ever V8 SuperTourer race at Hampton Downs last year, finished second in the overall championship and won the V8 SuperTourer endurance series with Jack Perkins.
"Being punted off in the last race at the last round within sight of the flag sort of got the whole team's back up and they are fairly revved up to come out fighting right from the first green light at Hampton Downs next week," Murphy said.
"We were super-competitive at nearly every round last year so there's no reason why we should not be right on the pace at Hampton Downs. We proved last year the team had a solid understanding of the car very early on and we did not have any reliability issues like some of the other teams. This season it's all about putting that speed and consistency into a full campaign and showing these young guns there's life in the old dog yet. It should be a bit of fun."
The 2013 field is bigger and in Murphy's opinion better than that which began the V8 SuperTourer era a year ago.
"Just look at the names in there - Van Gisbergen, McLaughlin, Baird, McIntyre, Booth, Gaunt, Moore, Manuell - all of those guys are easily capable of bagging a race win at some stage and if they can find consistency, could easily mount a title challenge.
"Even the smaller teams with the younger drivers are getting a grip of the cars and showing real pace - look at Edgell and McLennan's speed at Ruapuna. No question, this is going to be a hugely competitive season and with 20 or more cars on the grid. Since the first SuperTourer race last year, there was no doubt that this championship was the only real V8 series in New Zealand. The fans know where to come to watch the best touring car action in New Zealand and I can't wait to be a part of it again."
- APNZ