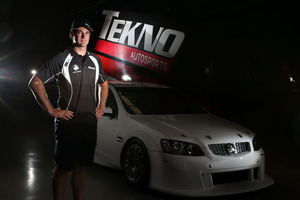 It'll be some time before the full story of why Shane van Gisbergen walked away from a three-year deal with Stone Brothers Racing and got behind the wheel of a Holden for the Webb family's Tekno Autosports team.
Van Gisbergen told Driven this week: "I was having a good time and then we had a little chat with Tekno and then things starting rolling along. It's been pretty exciting and I'm looking forward to this year racing with Jonathon [Webb] and I've already had a look around their facility.
"They've got some good cars and it's a great place to be and I reckon we can do quite well this year."
Van Gisbergen is happiest when with a family-oriented team - that's what he enjoyed about SBR. But with Ross and Jimmy Stone going into an alliance with Erebus Motorsport, and a new management structure, things were not going to be as they were.
With Tekno, van Gisbergen will be with a tight-knit group who just want to go racing.
"There'll be a lot of sponsorship stuff to do as well as the racing but the best thing about having Jonathon as a team owner and a driver is he understands all that stuff and how to go about it the right way," said van Gisbergen.
There has been a little tension in the V8 camp about the bloke jumping from a Ford into a Holden but if he'd stayed with Erebus Motorsport he would have been driving a Mercedes.
"Some people might be a bit peeved about how it all came about, which is a bit unfortunate, but it's just the way it turned out.
"I had no plans to come back [V8 Supercars], it's just the way it turned out. I just want to go racing. It was a bit of a shock to some people last year but I just want to get on with it and not worry about other stuff," said van Gisbergen.
Added Webb: "There's so much new stuff going on this year and we're hugely excited and quietly confident about the cars we're getting built by a championship-winning team [Triple Eight].
"Shane wasn't on our drawcard when we were looking for a second driver. He was out of the game and had gone back to New Zealand.
"We touched base with him early in the New Year after he'd had some time back home and here we are.
"We are very much a family business. My father [Steven] helped us to get it going and my wife and I run the business from day to day."