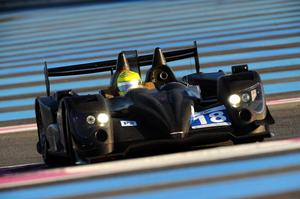 The star of one of New Zealand's top motor racing exponents is ascending again, and rightly so.
Brendon Hartley is joining another formidable Kiwi racing export, Scott Dixon, at the highly regarded Rolex Daytona 24 Hour endurance race this weekend.
After testing a couple of weeks ago, Hartley got the call-up to co-drive the Starworks' V8 Ford Riley Prototype second car alongside Scott Mayer, Ivan Bellarosa, Gaetano Ardagna Perez and Jan Chaurouz.
After the disappointment of losing out as a Red Bull Junior Development driver, Hartley has worked hard at proving his worth at Mercedes AMG Petronas, where he is a valued member of the simulator team.
He did such a good job with the development of the W03 Formula One car that the team handed him the keys to the F1 car at a young drive test at Magny-Cours, France, last year.
Hartley also grabbed his chance to showcase his driving skills in the Murphy Prototypes LMP2 endurance car, finishing on the podium and setting the fastest laps along the way.
His endurance skills were rewarded when he raced in the 2012 Le Mans 24-Hour race where again he proved to be one of the fastest, leading the LMP2 category before suffering mechanical dramas.
After a great 2012 Hartley is starting this year in one of the most prestigious endurance races at one of the most iconic tracks in the world.
"I raced here in the US last year and I think people could see that I did a good job, so I was asked to test with Starworks for the Daytona 24 Hour," said Hartley. "I only did a few laps in the car but they seemed to like what they saw. The driver line-up is spectacular and there are 60 cars in the field. It's tough, tough, tough racing. The best sports-car drivers in the world are here and it'll be good to see how I go up against them.
"It's great to come off a really strong year last year and start the season with a strong race."
For the first time in this particular race two New Zealanders will be racing. Former IndyCar and Indianapolis 500 champion Scott Dixon loves the race and won it in 2006.
Dixon and his co-drivers are in the same chassis as Hartley's team, but are running a different engine.
"I can't remember the last time I caught up with Scott but it'll be great to see him again," said Hartley. "He does the nation proud with what he does over here. I always thought I would like to give the ovals a go but after only driving on half the oval, I have big respect for Scott Dixon and those guys who do it every day.
"It's pretty scary but a cool track."
Hartley is grabbing every opportunity coming his way and so far has been making the most of each step. He has commitments to Mercedes as one of his paymasters, but his dance card is already filling up for the upcoming season and rightly so.
To compete in a championship as hard-fought as the endurance series and be running consistently at the front is no mean feat. Through hard work and determination, he seems to have his racing career back on track.
"I have so many things that might come off and if we do well here even more doors might open. This is the first race of the American Grand-Am series and you never know what it might lead to," said Hartley.
He'll have his hands full in the Ford Riley Prototype, as it's a bit different from his normal LMP2 car. This weekend he'll have 450kW as opposed to his normal 335kW.