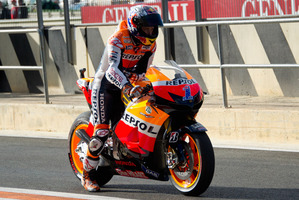 Two-time MotoGP champion Casey Stoner looks set to make the move to four wheels to race a V8 Supercar in the coming future but whether it will be this season is the big question.
After media reports yesterday stated Stoner would take part in V8s this season, the Australian tweeted: "Don't believe everything you read! Haven't decided what I'm doing yet, of corse @v8supercars is on the cards. Will let you know when I do!"
Since announcing his intention to quit the MotoGP circuit last May, Stoner has been strongly linked to a move to the V8s.
Earlier reports said he will make his debut in the second tier development series at the Adelaide 500 on February 28.
"It was always my plan during my whole career to drive a V8," Stoner said. "Since I was 12, I've always been interested in it."
The 27-year-old Stoner is set to race a Red Bull Holden Commodore backed by Triple Eight Racing, previously driven by four-time Supercars champion Jamie Whincup, the same team he has already enjoyed a series of training and testing sessions with.
Stoner will follow the path of fellow former motorbike world champion Wayne Gardner into the V8 ranks and said he was under no illusions about the challenges he would face.
"The hardest thing I have had to do is change whatever I know about braking and changing through gears," Stoner said. "I am having to rethink again. I have to forget everything I know about bikes and change to learn to drive these."
Stoner's Commodore will wear his famous No27, the same number which which he won the 2007 and 2011 MotoGP championships.
After an injury-interrupted season, Stoner signed off on his MotoGP career in his final race in Valencia, Spain, in November, finishing third in the 2012 championship. He said he had no plans to return to the sport.
"I've got no thoughts whatsoever at this time of ever even thinking of coming back to grand prix racing," he said.
"I'm not changing my mind every couple of minutes. The money doesn't interest me."
Stoner will enjoy his first public outing with his new team in a Supercar test day at Sydney Motorsport Park on February 16.
He will drive the development series which races older cars than the Supercars championship and follows a different schedule with seven races held over seven rounds.
The 2013 series will see Stoner racing in Adelaide, Perth, Townsville, Ipswich, Winton, Bathurst and Sydney.
- nzherald.co.nz/AAP