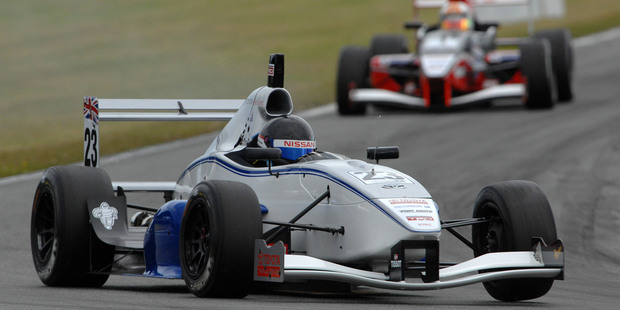 There's been much debate about video games and their relationship with motor racing. Sure, a Formula One simulator used by many of the F1 teams is about as close to the real thing as you can get but they cost more than an actual F1 car and are probably not best described as "a video game".
However, as in most cases there is an exception to the rule and UK driver Jann Mardenborough is a case in point. The 19-year-old began his motorsport career as a video gamer.
In 2011 he won the Nissan Sony Playstation Gran Turismo gaming competition (beating 116,000 others), which gave him the opportunity to attend the GT Academy. Being the best driver on a real track gained him a season of British GT racing in 2012.
His record speaks for itself. He has won a race, made it to the podium a number of times, put his car on pole and finished second in the championship. However, single seater racing - he is competing in this year's Toyota Racing Series - is a whole new ball game.
"Nissan thought it would be a good idea to get me to come and do the Toyota Racing Series in single seaters as a way of gaining a better understanding of where to put me in 2013," said Mardenborough. "It's another feather in my cap, really, as these cars are completely different to saloon cars and so will make me more rounded as a driver."
Mardenborough's only previous foray into any form of racing outside of video games had been a day at an indoor karting track in the UK. He hadn't even driven an outdoor kart before he attended the GT Academy and was handed the keys to a Nissan GTR.
"Driving a real race car was certainly different from playing at racing on a 14-inch TV at home.
"I'd never driven a sports car before or even been sideways. Arriving at Silverstone and being let loose in a GT car with 400 horsepower was a real big thrill. However, the training we had was second to none.
"It was like being thrown in the deep end but I think that can be the best way to learn. I've always been interested in race cars but there was no way I ever thought I'd be a professional race car driver.
"It's all a learning curve [single seaters] and the team and I are figuring out what is good for me in the car and we're just taking it steady at the moment. We might not be the quickest just yet but we're getting more and more information to help in the future," he said.
Mardenborough followed his own sage advice in race one of the TRS at Teretonga yesterday and didn't push the envelope to come home in a solid 11th place, the first rookie across the line, just behind local driver Damon Leitch. Austrian driver Lucas Auer, back in New Zealand for his second visit, was consistently fast from the time the cars were unloaded off the trucks on Wednesday. He qualified on pole and when the lights went out, held off fellow front row sitter Alex Lynn and defending champion, New Zealander Nick Cassidy.
Last time Auer raced here, he was just as fast but erratic - having a number of off-track excursions and mishaps. A year of European racing has smoothed out the bumps in his driving style and he can now add consistency to his speed.
Auer reeled off a number of super quick opening laps to pull a 2.5s gap on Cassidy and Lynn and then settled into a smooth, flowing groove and was never threatened over the ensuing 12 laps.
Cassidy pulled a similar gap on Britain's Lynn to come home second with Puerto Rican Felix Serralles and Brazilian Bruno Bonifacio rounding out the top five.