Western Springs midget mayhem over the Christmas break provided fantastic action, writes Barnaby Sharp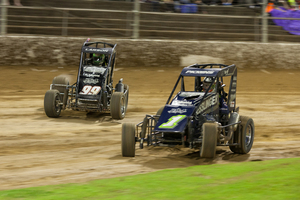 Those fortunate enough to be at Western Springs over the Christmas, New Year period were witnesses to history.
American Kyle Larson drove himself into the record books by winning all four of the meets, something not before done.
And when you consider the pedigree of past winners, this feat becomes even more impressive.
Americans Ron "Sleepy" Trip, Jerry Coons jnr, even our own Michael Pickens; none was able to achieve what this 20-year-old from Sacramento, California, did.
After a rain delay, Larson took out the opening round of the four-night International Midget Series on December 27, storming to victory in the 25-lap International Midget Feature. This kid was the one to beat, no question.
Two days later, Larson, aka "Young Money", again stole everyone's thunder, this time winning the World 30 Lap Derby.
His driving and decision-making were aggressive and precise.
It's no wonder Larson is tipped for a Nascar seat this year, with rumours pairing him with top star Tony Stewart.
As speedway fans saw in the New Year, you could be forgiven for thinking you had a case of deja vu. In beautiful January sunshine, Larson completed his hat trick with victory in the King of the Springs 40-lap feature. The other drivers in every race Larson was in pushed him hard.
The strong New Zealand contingent of Pickens, Brad Mosen and Brock Mascovitch drove with power and pride, as did the equally strong pack of visiting Americans. But once Larson got his nose in front, there was nothing anyone could do.
Even when racing was restarted, or back-markers came into play, he sliced through them with ease. So nobody was surprised to see everyone again chasing Larson on the fourth and final night, January 3, for the World 50 Lapper.
But the script remained the same and a victorious, exalted Larson was thrilled with his historic drives.
"Man, to win four in a row; there's so much history at this place.
"To be the first ever to do and quite possibly the only ever to do it, it just feels so special."
Last Saturday, US-based Aussie Peter Murphy won the NZ Sprintcar Championship after a thrilling battle with American Jonathan Allard.
Allard was leading in the race and the points standing until his engine blew up in spectacular fashion, ending his hopes of a second NZ Sprintcar title with it.
Another memorable chapter was written in the Springs' proud logbook, and everyone who was there, including the odd All Black, knew it.