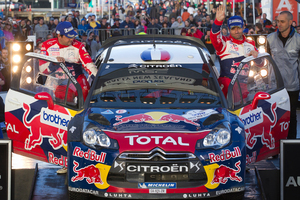 Eight-time FIA World Rally Championship driver Sebastien Loeb won his fifth rally of the year when he clinched his third Rally New Zealand title. In his bid for a ninth world title the Frenchman extended his WRC lead to 38 points over Mikko Hirvonen who was runner-up for the third time to Citroen teammate Loeb.
Ford driver Jari-Matti Latvala challenged the Citroens early on but came unstuck on day one when he became tangled in a farm fence dropping four minutes on the leaders to finish the rally seventh.
Latvala's team-mate, Petter Solberg, drove like a demon to fight back from seventh to get the final podium place after a bad tyre choice on day one.
Loeb edged ahead during leg one, then resisted a concerted challenge from Hirvonen on Saturday, after which team orders put paid to any head-to-head racing on the final day.
"It was a long weekend with some very difficult conditions," Loeb said. "The big, big fight with Mikko for the weekend was not easy."
Hirvonen described the weekend as fantastic. "We had such a great fight for the first two days," he said. "It was really important to get the speed back again because in Greece I wasn't happy with my driving so now it is good again and right before Finland which is good."
While pleased to move into the lead of the S2000 class, Kiwi driver Hayden Paddon said he'd hoped to achieve a lot more in his home event. "It was a frustrating day especially when the rear suspension broke just as we were trying to chase down Manfred Stohl. I definitely feel there's more to come with the car as we haven't got the setup and balance quite where we want it yet."
Richard Mason all but wrapped up a record equalling fourth national rally championship after a wire-to-wire win over the weekend. He only has to go to the Gisborne event next month and score five of a possible 42 points available to make sure of his fourth championship.
Emma Gilmour, who pushed him closely, was forced into damage limitation on the final day and although she still finished second for the event, she was only fourth on Sunday.
"We were struggling the first couple of days, especially on Friday night when they pulled the gearbox out and attempted repairs to the clutch, which didn't work," Mason said. "Saturday night we got the clutch going again and on Sunday we found driving comfortably brought the times to us."