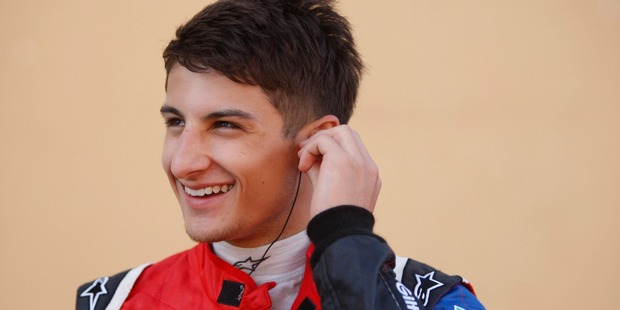 New Zealand's Mitch Evans, on the eve of his 18th birthday, has stormed to pole for today's GP3 Series qualifying at Valencia.
Despite sweltering heat, Evans topped the times for the most of the session, and led a MW Arden 1-2 ahead of team mate David Fumanelli.
The eventual margin between them was 0.033s, but it would have been much larger had Evans been able to complete his last lap unhindered by a yellow flag.
"This year we haven't really maximised our qualifying potential, but this weekend we got everything into place and made it work," said Evans.
"It's a bit of a relief. It's a great way to the start the weekend off. Now we have the race and making a good start is going to be the main thing I will need to concentrate on. I have been working on making good starts so need to focus on that, so now I just need to see if I can do the same in both races."
GP3 Series leader Aaro Vaino will start third, the Finn's margin over Evans reduced to just nine points with the bonus points Evans won for pole position on the tight and twisty 5.41km Valencia track.
Evans is one of the four different winners from the first four GP3 races in 2012. He won the opening race at Barcelona on May 12.
He was the first driver to break into the 1m 58s barrier.
"I was trying to put another lap together and on my last attempt I was up on my time," said Evans. "I got a yellow flag in my last sector so potentially I could have gone quicker. Fortunately, I had done enough to have put the car onto pole position with my previous lap and to keep it. I slowed down in the last sector as I didn't want to be penalised."
It was the third pole of Evans' GP3 career with Fumanelli achieving a career best in second. Conor Daly qualified seventh fastest but will line up 17th after officials revisited his horrific crash at the exit of the Monaco tunnel and penalised the son of former F1 driver Derek Daly, ten grid places in Spain.