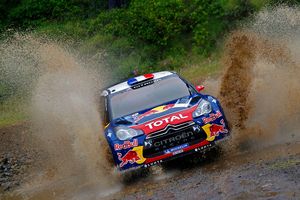 The maestros of car control are at it this weekend on the best rally roads in the world for round seven of the FIA World Rally Championship, the Brother Rally New Zealand.
Eight-time WRC world champion Sebastien Loeb is back to try to win his third Kiwi title. The Frenchman may have won his world titles back to back, but here in New Zealand it's been a lot harder to string the wins together.
He won his first trophy in 2005, was thwarted by the gifted Marcus Gronholm for the next two years then came good again in 2008.
The event was not held the following year and in 2010 Loeb could have reached out and grabbed the title, but stumbled at the last hurdle making an uncharacteristic mistake and handing the win to Ford driver Jari-Matti Latvala.
The Citroen driver has an amazing 71 rally wins to his name but only two in New Zealand. He, like all the drivers who make the trip to the bottom of the world, loves the place and the roads but it hasn't been a happy hunting ground.
"In a way I hope it's not like in the past because I lost some battles, but on another hand, it's one of my best memories as we really enjoyed it and it was extremely intense," said Loeb.
"The roads are really nice and interesting here. Most of the roads are wide and very fast so you have some big slides at very high speed. It's really fun to drive.
"It's always been a very exciting rally, that's for sure. This year, though, I hope for a great fight but with an end in our favour."
By any normal mortal's standards, Loeb has dominated the opening rounds of this year's championship, winning four of the six rounds. However, by his standards it's been hard work with Latvala winning in Sweden and Mads Ostberg taking the Rally de Portugal after Loeb crashed and Finn Mikko Hirvonen was disqualified.
He is 20 points up on the chasing Finn and knows he and his co-driver Daniel Elena will have a battle on their hands.
"Mikko and Jari-Matti have always shown great speed here in New Zealand so I think they will be fast. Petter [Solberg] will also surely be fast on these roads. Since the start of the season we are the four drivers who have been fighting for the wins.
"Mads [Ostberg] has shown great potential for sure as well. I don't underestimate anyone and certainly not Mads, that's for sure. Maybe one of his weak points might be his lack of experience on some of the rallies.
"When it comes to racing in the rally I will try to go for the win as I always do. If I see that something is about to go wrong, or actually goes wrong, or I am not driving at the right pace straight away, I might revise my point of view."
Loeb's consistently closest rival over the past six years has been Hirvonen in the Ford. For 2012 the Finn made the decision that if you can't beat them with what you've got, join them and get what they've got. Loeb now has a new Citroen teammate in Hirvonen, and as a manufacturer the French carmaker must be rubbing its hands in glee with what could easily now be deemed a super team.
They may share the same service park now but the rivalry will remain.
"The racing has been close this year with at least four drivers with two very good cars to compete for the win at each event. It's good to have Mikko as a teammate and we work well together but will still fight for wins," said Loeb.
Most of the media focus will be on Loeb as he slips and slides around the gravel roads over three days of competition, but he's only one part of the team in the car. His long-time co-driver Elena is an integral part of the man from Alsace's long and illustrious career.
"He is an important part of course, just like all the team. We have started together, we have won everything together," said Loeb.
With eight world titles you'd think Loeb would be looking for new challenges. At 38 he's still young and in no hurry to hang up his gloves. He is keen to get number nine under his belt, and another win in New Zealand.
POINTS TABLE
Sebastien Loeb - 119
Mikko Hirvonen - 89
Mads Ostberg - 80
Petter Solberg - 73
Jari-Matti Latvala - 45
Evgeny Novikov - 43
Martin Prokop - 36
Nasser Ai-Attiyah - 23.