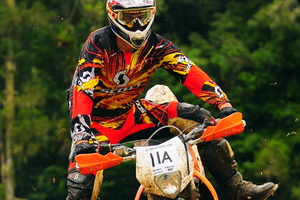 With three different outright winners in the three rounds so far it is near impossible to predict who will win this weekend's fourth round of five in the Enduro Championships in the King Country.
It has been a mixed bag of results in the Yamaha-sponsored series.
Wellington's Rory Mead won round one near Kawhia in February, with Palmerston North's Adam Reeves and Auckland's Chris Power sharing second spot. Whangamata's Jason Davis won round two in Northland in March and Auckland's Karl Power returned from injury to win round three near Whangamata earlier this month.
It seems highly likely that a fresh face could top the leader board when racing concludes at Waimiha this Saturday afternoon.
Consistency has ensured that riders such as Hokianga brothers Mitchell and Damon Nield, Mokau's Adrian Smith, Te Awamutu's Kevin Archer, Opotiki's John O'Dea and Auckland's Michael Skinner are also in contention for the outright win.
Saturday's course at Waimiha will be a puzzle for the competitors.
"We've raced the nationals here before but about a quarter of it will be fresh trails," said event organiser Gary Powell.
"I have been hard at work clearing trails, cutting new tracks through the pines and clearing windfalls. It will be a very technical course.
"It will be about 120km of riding, including five 6km special tests that will really sort the men from the boys.
"It will be interesting to see who copes best but the title may go down to the wire at the final round in Taupo on July 21.
"Consistency will be the key and it may be that the eventual outright winner won't even have a round win to their credit."
There will certainly be a new champion this year because 2011 champion Mead is expected to be absent on Saturday as he has overseas racing commitments.