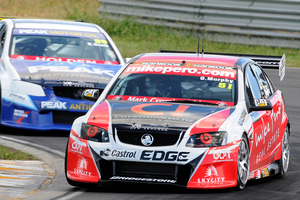 Greg Murphy thrilled the crowds with a lights-to-flag victory to show his mastery of wet-dry conditions in the feature race of the third round of the V8 SuperTourer championship at Manfeild Autocourse today.
Murphy made an early break on the wet track, but the rain had already eased and the SuperTourers quickly established a dry line, and making the most of the tyres in these conditions proved to be key to the race.
The M3 racing team seemed to have the right set-up for the conditions, and with Murphy out front the men on the move through the field were his teammates Paul Manuell and Richard Moore - in Orix and Skinny Holden Commodores respectively.
Jonny Reid's set-up and that of team mate Ant Pedersen, did not seem suited to the track and the winner of race 1 and race 2 faded quickly, dropping down behind John McIntyre, Steve Richards, Manuell and Moore. As the tyres struggled with temperatures on the drying track, surprise package Moore looked like the man on the move, sliding the car in great style as he chased down and passed car after car.
Manuell pulled a pass on him but soon afterwards fell back s he had asked too much of the tyres. Moore was soon through and chasing McIntyre.
"I started quite low down, so had to put on a charge right from the first lap," said the Canterbury University student. "I just got my head down and went for it, my tyres held on and I was able to come through."
There was no stopping Murphy though, the crowd favourite timing his run to perfection - just holding off McIntyre for the win by two tenths of a second. Star of the race Moore was less than two seconds behind but delighted to take his first podium.
Reid's troubled final race ended with fifth, good enough to take the championship lead after a great weekend in the International Motorsport car. Steve Richards was sixth, Kayne Scott seventh and the top ten completed by Craig Baird, a disappointed Ant Pedersen and Andy Knight.
Reid won the first race of the day but there was a dramatic escape for Racing Projects driver Colin Corkery who survived a massive crash into the tyre wall.
Coming out of the last corner, Corkery was accelerating hard and moved right with Andre Heimgartner just behind. He clipped him and spun off at speed before heavy contact with the tyre wall. The car was destroyed and ended up back on the track. After a long wait in the car Corkery emerged and was able to walk away unaided and unscathed.
Round Results
1 Jonny Reid 661
2 Greg Murphy 621
3 John McIntyre 554
4 Andy Knight 426
5 Steven Richards 408
6 Ant Pedersen 363
7 Richard Moore 345
8 Craig Baird 341
9 Kayne Scott 322
10 Paul Manuell 317
11 Eddie Bell 311
12 Andre Heimgartner 224
13 Andy Booth 223
14 Colin Corkery 70
15. Scott McLaughlin 0
16. Geoff Emery 0
Championship Overall
1. Jonny Reid 1626
2. John McIntyre 1538
3. Greg Murphy 1264
4. Kayne Scott 1252
5. Ant Pedersen 1240
6. Craig Baird 1153
7. Andy Booth 1038
9. Eddie Bell 883
10. Andy Knight 860
11. Andre Heimgartner 768
12. Fabian Coulthard 757
13. Richard Moore 717
14. Paul Manuell 676
15. Scott McLaughlin 585
16. Geoff Emery 434
17. Colin Corkery 293

- APNZ