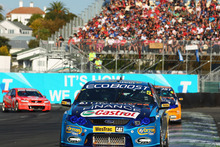 When Mark Winterbottom crossed the finish line of the Hamilton 400 today, it marked the end of an era in New Zealand - but for how long?
The Hamilton round of the V8 Supercars championship has been run since it replaced the Pukekohe-based New Zealand V8 International in 2008.
But the round has been plagued by financial difficulties and declining attendance throughout its five years, and Hamilton City Council last year agreed with V8 Supercars to terminate the hosting arrangement with two years remaining on the original seven-year contract.
With no agreement in place for a New Zealand round of the series beyond this year, this weekend's races are not only the last in Hamilton but, for now, the last in on this side of the Tasman.
"V8 Supercars wants to continue racing in New Zealand and are investigating all possible venues," series chief executive David Malone said. "It would be a great shame for New Zealand to lose our sport. We have a fantastic fan base and great corporate support in New Zealand, and [we] welcome the opportunity to continue racing here."
Whether that opportunity comes to fruition is dependent on a number of factors.
First, a promoter must be found to take on the costs associated with hosting a round of the series. That may be easier said than done, considering the original promoters of the Hamilton event went broke after three years and left V8 Supercars to shoulder financial responsibilities to keep the event afloat.
"Events of an international scale, such as the V8 Supercars championship, require a level of government assistance," Malone said. "We have held positive discussions with the New Zealand government who will undertake an assessment and advise in due course."
Earlier in the week, Prime Minister John Key said he would require further briefing on the financial sustainability of having an event in New Zealand before the government could pledge any funds toward making that a reality.
Even if government support is procured, any of the countries' venues would need to be upgraded to accommodate an event of this magnitude. A return to Pukekohe is the most likely outcome, though tracks at Hampton Downs and Whenuapai have also been mooted.
A consortium from Auckland tourism, events and economic development were reported to be present in Hamilton this week to consider the viability of a race in the region, and they will make to decide before V8 Supercars' scheduling deadline of the end of July.
Hamilton attracted more than 116,000 fans across the three days of this year's event, showing there is certainly a fan base for the continuation of racing in New Zealand, and Malone expounded the benefits to a region of assuming hosting responsibilities.
"In five years of racing in Hamilton the event has injected more than $75 million directly into the New Zealand, Waikato and Hamilton economy."
But, considering a 2011 audit into Hamilton City Council spending revealed the event had cost the city about $40 million, hosting does not come without its risks.
New Zealand driver Fabian Coulthard, the top-placed Kiwi in both races this weekend, said it was very important to continue racing on these shores.
"The big thing is that the Kiwi fans can follow their Kiwi drivers in their own country. Just walking around the paddock it's great to see the support us Kiwis have - everyone goes out of their way to pat you on the back or shake your hand and wish you good luck.
"I think that's pretty important and it would be sad to lose that reception if we don't come back."
- APNZ
By Kris Shannon

Email

Kris