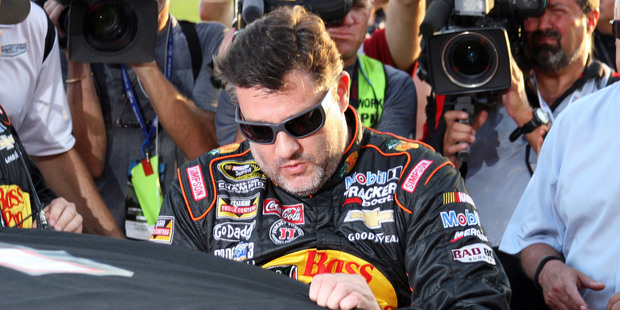 Tony Stewart took his seat on the podium - unshaven, his eyes glassy. His voice quivered as he described the death of a driver he hit as "one of the toughest tragedies I've ever had to deal with".
This was a far cry from the brash driver known as Smoke. Ninety minutes later he got into his No14 car and sped towards the high-banked oval at Atlanta Motor Speedway. He was soon up to nearly 300km/h, back in his element.
• Read more Nascar's Stewart hits and kills fellow driver
Describing himself as heartbroken but eager to heal, Stewart rejoined the race last weekend for the Nascar Sprint Cup championship, surrounded by those he considers a second family - his team, his crew, his rivals. He missed the last three races, going into seclusion after the sprint car he was driving struck and killed 20-year-old Kevin Ward jnr, who had stepped on the track to confront him during a race.
An investigation continues.
"This is something that will definitely affect my life for ever," Stewart said. "I know that the pain and mourning Kevin Ward's family and friends are experiencing is something that I can't imagine."
Stewart's timid, halting delivery presented a much different side to a racer whose infamous temper has sparked clashes with the media and fellow drivers.
It was business as usual when Stewart switched to his racing suit. He signed autographs. He talked with his crew about the car's setup. Behind the wheel, Stewart looked as though he had never been away. He advanced to the final round of qualifying before settling for the 12th starting spot. Stewart could still qualify for the Chase for the Sprint Cup championship.
Nascar requires drivers to compete in every event. Stewart was granted the waiver that is applied for medical reasons.
-AP