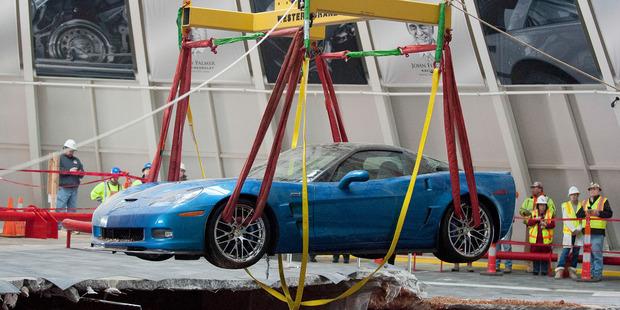 A huge sinkhole that swallowed eight prized sports cars won't be a permanent attraction at the National Corvette Museum in Kentucky.
The museum's board of directors voted at the weekend to completely fill in the hole that opened up in February and became an internet sensation.
Curiosity about the hole revved up attendance and revenue for the museum in Bowling Green.
Board members reversed course by deciding against preserving a section of the gaping hole.
• Read more Sinkholes: What are they?
Mindful of the hole's popularity, museum officials were at first leaning towards keeping part of the hole open and putting a crumpled sports car back in it to mark what happened when cars toppled like toys amid rocks, concrete and dirt when the sinkhole opened up in the museum's Skydome.
The option of keeping part of the hole open lost favour because of the added cost of safety features.
To keep part of the hole, workers would have had to install 11m tall retaining walls and inserted beams in the hole to prevent future cracking, said museum spokeswoman Katie Frassinelli.
The costs amounted to about US$1.1 million - double earlier estimates - because of measures to ensure safety and to control humidity.
Another worry was continuing maintenance costs if a section of the hole were to be left open, museum director Wendell Strode said.
"It just wasn't practical to do it."
• Read more Man reunited with stolen Corvette after 33 years
The museum didn't disclose how much it will cost to fill in the 18m long, 14m wide and 9m deep sinkhole.
Repairs are expected to start in November and take about six months, officials said. The museum will remain open, but the Skydome will be sealed off from visitors, who will be able to watch the repairs through a Plexiglas wall.
-AP