Favoured off-roader has its diehard supporters who crave adventure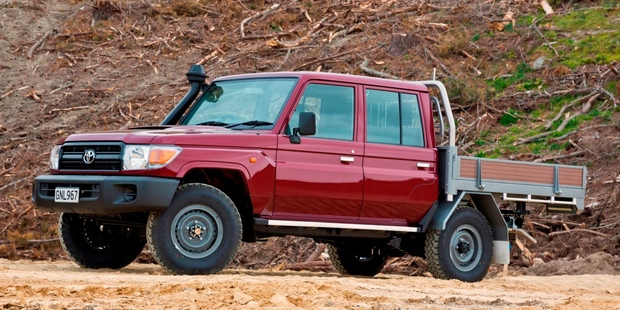 Toyota is bringing back the Land Cruiser 70 in Japan, catering to nostalgic demand for the rugged off-roader that's favoured for challenging terrains and as an aid agency vehicle in disaster zones.
The ¥3.6 million Land Cruiser 70, the toughest of the Land Cruiser models, arrives at Japanese dealers this week. But it's on sale for only a year, with planned production of 200 a month.
Japanese sales were discontinued in 2004, but fans have long wanted the model back because of its fun-to-drive features.
"If you ever have to entrust your life to a car, I'd choose the Land Cruiser," chief engineer Sadayoshi Koyari told reporters at an event for car fans in Tokyo.
The 70 model first went on sale in 1984, and it's still sold in the Middle East, Africa, Australia and New Zealand, averaging 6400 vehicles a month in sales. In New Zealand, the Land Cruiser 70 costs from $65,880 for the single cab.
Its durability is based on its ladder-frame chassis and suspension, according to Toyota, the world's top carmaker.
Japanese fans have long wanted the model back since it was discontinued there in 2004.
Masahiro Terada, 67, a Kyoto lumber merchant and fan of the Land Cruiser for decades, heads a network of about 50 Japanese Land Cruiser owners who gather at unusual spots such as bumpy volcanic areas near Mount Fuji and rivers in southwestern Kyushu to test the vehicle's off-road features.
"A Land Cruiser is a toy for a big boy, those adults who never grow up," he said with a laugh.
The UN and the Red Cross use the Land Cruiser for relief efforts in disaster zones, making it a model Toyota is proud to claim as part of its brand.
The Land Cruiser is Toyota's longest-running nameplate, with a cumulative 7.9 million units produced worldwide.
Its long history means there are plentiful parts from models sold around the world, including in emerging economies where easy and reliable maintenance is crucial.
The comeback offering, which is also available in a ¥3.5 million pickup version, boasts up-to-date safety and smart-key features, a 4-litre V6 engine and five-speed manual transmission.
-AP