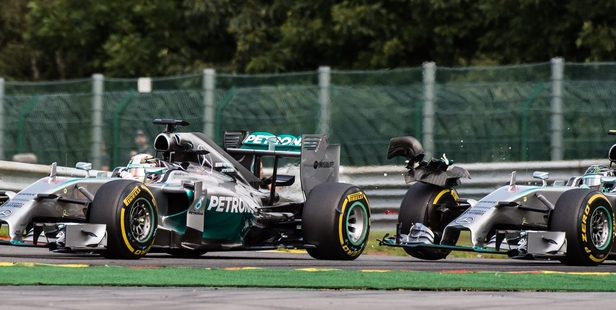 Nico Rosberg apparently admitted deliberately crashing into Mercedes teammate and world championship rival Lewis Hamilton in the Belgian Grand Prix, according to Hamilton.
The 29-year-old British driver, who was leading yesterday when Rosberg drove into him on lap two of the 44-lap race, suffered a puncture to his left rear tyre and, after struggling to recover at the back of the field, retired with four laps remaining.
After a team meeting at the Spa-Francorchamps circuit in the aftermath of their most explosive and controversial clash of a dramatic season, Hamilton said Rosberg had said he hit him "to prove a point".
"It looked quite clear to me, but we just had a meeting about it and he basically said he did it on purpose," Hamilton said.
"He said he could have avoided it. He said, 'I did it to prove a point,' and you don't have to just rely on me - go and ask [Mercedes team boss] Toto [Wolff], Paddy [Lowe] and all those guys who are not happy with him as well."
Hamilton said he was gobsmacked at Rosberg's reaction in their team discussion, held just three days after clear-the-air talks to improve their relationship.
"You know, and you can ask Fernando [Alonso], and you can ask all drivers, when a car is less than half a car length alongside you - and you are on the inside - it's your racing line," said Hamilton.
"It's not your job to go massively out of your way to leave extra, extra room. And it wasn't one of those corners where there's a wall there or anything.
"I was gobsmacked when I was listening to the meeting. You need to ask him what point he was trying to make."
Hamilton said Rosberg had tried to blame him for the incident.
"He just came in there and said it was all my fault."
Hamilton shrugged: "I can't imagine what the team would do now."
He added: "We've got eight races [to go] and we're close - there's only 11 points in it - and I thought it was going to be good for all of us, good racing, I thought this was going to be a track that was going to be exciting.
"It's interesting because we had that meeting on Thursday and Nico expressed how angry he was ... "
Earlier, Rosberg had told reporters that he felt their crash would not spoil their relationship and harmony would be restored.
After being booed on the podium, Rosberg defended himself, saying: "First of all, what I hear is that Toto Wolff said it was unavoidable, which doesn't put the blame on me, and the fans that were booing me were the British fans.
"Of course, I am very unhappy for the team because we have the fastest car and we should have had first and second."
Mercedes team bosses Niki Lauda and Wolff laid the blame for the second-lap crash that left leader Hamilton with a race-wrecking puncture on Rosberg, who appeared to drive into his teammate's car.
"Completely unacceptable," said Wolff.
"That was just an unacceptable race. It is unbelievable. You should not crash into your teammate. Lap number two of a long race and a crash between two teammates, we have often discussed the situation and it happened today.
"You don't try to overtake with the knife between your teeth in lap number two and damage both cars.
"This is a decisive moment in the battle between the two of them and for the team.
"Lewis is very upset, we kept him out there for a long time with a damaged car. He will recover quickly. It is going to be handled."
- AFP