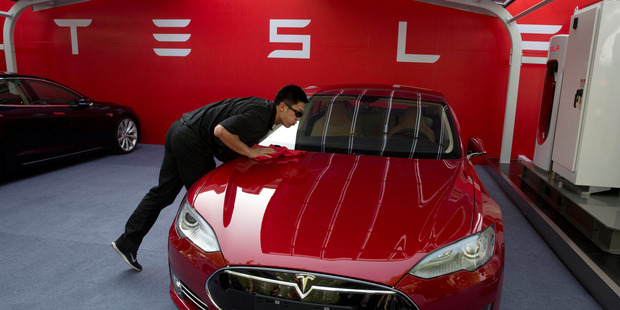 American electric carmaker Tesla is teaming up with Japanese electronics company Panasonic to build a large battery manufacturing plant in the US.
The companies did not say where in the US the so-called "gigafactory" will be built. Tesla says Nevada, Arizona, Texas, New Mexico and California are in the running.
Financial terms weren't disclosed for the US$5 billion plant which will produce cells, modules and packs for Tesla's electric vehicles and for the stationary energy storage market. Under the agreement Tesla, based in Palo Alto, California, will prepare, provide and manage the land and buildings, while Osaka-based Panasonic will manufacture and supply the lithium-ion battery cells and invest in equipment.
Tesla CEO Elon Musk says the factory will help Tesla reduce its battery costs by 30 per cent. The company needs cheaper batteries in order to produce its mass-market Model 3, an electric car it's developing that would cost around $35,250 (US$30,000). Tesla hopes to have it on the road by 2017.
"The gigafactory represents a fundamental change in the way large-scale battery production can be realised," says Tesla's chief technical officer and co-founder JB Straubel, referring to the cost reductions. Sales of zero-emission electric vehicles account for less than 1 per cent of the global car market. But worries about global warming and more stringent emissions regulations in many countries are expected to boost sales of electric and other green vehicles.
- AP