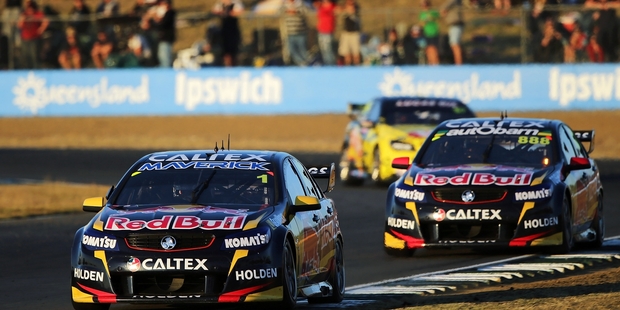 Jamie Whincup's red-hot V8 Supercars form is turning ominous.
The Red Bull Racing driver is inexorably closing in on the series lead after back-to-back wins at Queensland Raceway yesterday brought him within 48 points of Ford's Mark Winterbottom.
Whincup, a lowly fifth in the standings back in May, has snared six of the past eight races to storm back into title contention.
His pair of victories at Ipswich couldn't have come about more differently, however.
After dominating race one with Craig Lowndes, Whincup grabbed the lead following a tight tussle with his veteran team-mate with 10 laps remaining in the 33-lap sprint race. From there he pulled clear, eventually coming home with a healthy 4.5s margin.
In the second 100km race he was back in third when Nissan's Michael Caruso and Volvo driver Scott McLaughlin came together in the 22nd lap.
Leader McLaughlin was sent spinning by Caruso, effectively ending the Kiwi's race while a subsequent drive-through penalty for Caruso allowed Whincup to take the lead - and the win.
With Winterbottom struggling his way to sixth-placed finishes in both races, a 96-point margin at the start of the day between the championship's top two had effectively been halved.
"That race showed there's still plenty more to go," said Whincup. "We've certainly made some gains from the start of the year, which is what it's all about."
Lowndes finished second in both races to haul himself back up to third in the championship standings, a further 198 points behind Whincup.
Fabian Coulthard is in fourth, 27 points behind Lowndes, while fellow Kiwi Shane van Gisbergen - who collected a 10th and fourth - is fifth. McLaughlin, who started on the front of the grid for the second race, sits in seventh in the overall standings.
He accepted an apology from Caruso before taking a philosophical attitude to the incident.
"It's just one of those things. It's just racing, man," said McLaughlin. "I would've had a go if I was in second place as well.
"I'm pissed off but, at the end of the day, everyone makes mistakes ... it's all good."
Winterbottom's championship bid has so far been built on the back of impressive results in Sunday races, which are worth double the points of each of Saturday's races. Lowndes says there's no doubt the longer format will force everyone to compete differently.
"You'll see different strategies tomorrow," Lowndes said. "Guys who are confident of doing longer runs will get the best out of their tyres ... you might find some cars pitting quite early to get an advantage if you're in traffic. Tomorrow will be a very different ball game."
Today's action begins with qualifying at 2.55pm before the 200km race starts at 5.50pm.
- AAP