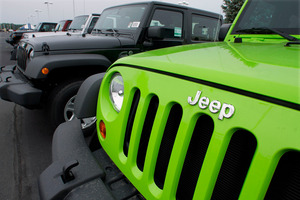 Brisk demand for SUVs and pickup trucks -- and five sunny weekends -- pushed US auto sales to a nine-year high in May.
Chrysler, Nissan and Toyota all reported double-digit sales gains over last May. Even General Motors, battling bad publicity from a mishandled recall, surprised with a 13 per cent sales increase.
Ford's sales rose a better-than-expected 3 per cent, while Hyundai's were up 4 per cent. Of major automakers, only Volkswagen's sales fell.
May is traditionally a strong month for the auto industry, as buyers spend their tax returns and think ahead to summer road trips. This year's calendar, with five weekends, gave it an extra boost. Sales were particularly strong the last weekend of the month, automakers said.
Sales rose 11 per cent to just over 1.6 million in May. That was the highest monthly total since July 2005, according to Kelley Blue Book.
The surge helped erase doubts about the strength of the industry. January and February sales were weaker than expected as consumers spent more time shoveling snow than shopping.
"It's the continued recovery in the summer selling season," said Jeff Schuster, executive vice president of forecasting for LMC Automotive, an industry consulting firm. "Kind of everything aligning in the month of May."
June should bring more of the same, said Karl Brauer, a senior analyst with Kelley Blue Book. May sales were driven by pent-up demand from the winter, he said, but the summer months will likely be strong because of other factors, including low interest rates, good lease deals and enticing new vehicles.
Automakers didn't need big discounts to boost sales. Car buying site TrueCar.com estimated incentives were flat from last May and up 4 per cent from April to $2,677 per vehicle. TrueCar said Hyundai, Kia and Honda had the biggest increases in incentives in May. Chrysler, GM and Nissan offered fewer deals.
GM said May was its best month since August 2008. Sales of its GMC Yukon and Buick Encore SUVs more than doubled, and buyers snapped up the new Chevrolet Corvette. GMC Sierra pickup sales gained 14 per cent.
Brauer said buyers haven't been deterred by GM's multiple recalls -- 13.8 million vehicles so far this year -- and questions about how long the company took to report safety problems in older cars.
"Car buyers are willing to forget the past and look at the present and future for GM," he said.
Toyota's sales increased 17 per cent over last May. Sales of the Camry midsize sedan, the country's best-selling car, rose 26 per cent to nearly 50,000. Luxury Lexus brand sales gained 21 per cent.
Ford said it was a record month for the Fusion sedan and Escape SUV, which both topped 30,000 in sales. Sales for the Lincoln luxury brand gained 21 per cent as the new MKC small SUV went on sale.
But Ford's truck sales dropped 4 per cent as the automaker reduced incentives. Ford said it's trying to manage pickup truck inventories as it prepares for the new aluminum-clad F-150 pickup, which is due out later this year. Ford plans to close its truck plants for a total of 13 weeks this year. It would normally make around 90,000 trucks in that time.
"If we really wanted to, we could sell more trucks in the near term, but we've got to manage this thing through," said Joe Hinrichs, Ford's Americas chief.
Auto sales have led the uneven US economic recovery for the last few years, with sales increases of 1 million or more vehicles in each of the last four years. US sales totaled 15.6 million in 2013, up from 10.4 million at the depths of the recession in 2009.
If sales stayed at May's pace, they would reach 16.7 million sales this year. But that torrid pace is likely to slow as sales approach a natural peak.
"We're still growing, but we're not going to keep seeing that kind of growth," Hinrichs said.
Sales for other automakers:
Honda sales rose 9 per cent. Accord midsize car sales rose 19 per cent to nearly 40,000. Sales of the Odyssey minivan and Ridgeline pickup fell.
Nissan sales jumped 19 per cent on strong demand for new vehicles, including the Sentra small car and Rogue SUV.
Chrysler sales rose 17 per cent, boosted by strong demand for the Ram pickup and the new Jeep Cherokee small SUV. The Jeep brand sales set an all-time monthly sales record, with 70,203 vehicles sold in May.
Hyundai said May was its best month ever in the U.S., with total sales of 70,907. Santa Fe SUV sales jumped 49 per cent, while sales of Hyundai's luxury Equus and Genesis sedans rose 25 per cent each.
Volkswagen sales fell 15 per cent as the brand prepared to launch the new Golf compact car.
-AP