David Tremayne recalls a legend who was able to transcend sport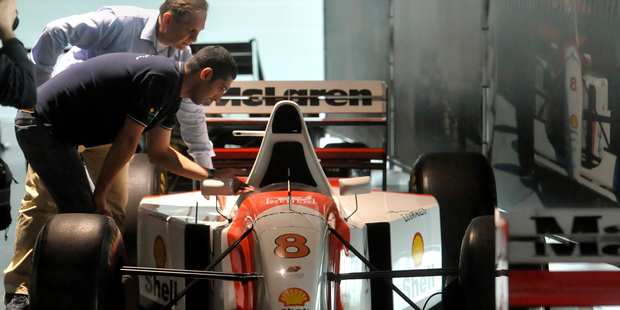 Twenty years on from his untimely death, the legend of Ayrton Senna endures.
Although renowned for his social conscience, the Brazilian ace could be ruthless, even brutal, out on the race track.
"If he wants the world championship badly enough to die for it, he's welcome to it."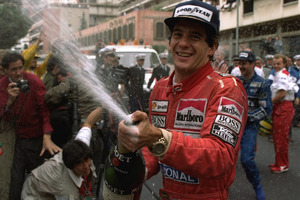 Alain Prost spoke those bitter words in Portugal in 1988 after his upstart McLaren-Honda teammate Senna had deliberately swerved at him at 300km/h on the main straight.
Prost prevailed that day, but it was the first manifestation not just of Senna's deep-set desire to beat him but also of the fearsome commitment that the Brazilian brought to his quest to establish himself as the world's greatest racing driver.
Of course, that little incident was nothing compared with their collision as they raced for victory in Japan the next year, when Prost blocked Senna in the chicane at Suzuka.
That was the culmination of a motorsporting rivalry that electrified Formula One, exceeded all previously known limits and became a feud. Team boss Ron Dennis had initially laid out his expectations of them behaviourally when Senna joined Prost for 1988, but by mid-1989 he felt obliged to intervene.
"I can remember looking at their faces and thinking, 'These guys aren't listening'. So I ramped up the pressure and they still didn't get it, and the third time they went into shock and said I had been too aggressive. And I told them they had communicated their concerns about having such a strong teammate and that the only way this would work was that the team came first, but that they would have equality."
To begin with, they got along. But next year the gloves were off.
"They were both to blame for their feud, and broke commitments to one another several times," Dennis continues. "When they were testing one day at Pembrey I flew up because I was so angry at the way the feud was building up steam. I called both of them kids, and the psychology was that if I was going to be the bad guy and make them hostile towards me, they would unite against me."
Senna had won the title in 1988, his first; Prost won his third in 1989 before leaving for Ferrari. At Suzuka in 1990, Senna's resentful belief that Prost had colluded with FIA president Jean-Marie Balestre, also a Frenchman, to have him excluded from a righteous and sensational recovery victory there the previous year, and his frustration at having to start from pole position on the dirty side of the grid because of Balestre, set the scene for the most explosive conclusion to a championship fight. He declared prior to the start: "If he [Prost] gets ahead of me into the first corner, he ain't gonna make it."
And he remained true to his threat, keeping his foot flat to the boards and deliberately taking out his rival at the first corner to ensure that he won his own second championship.
Imagine a racer blessed with the delicate skill of a Juan Manuel Fangio or a Jim Clark, but tainted with the brutal ruthlessness of a Mike Tyson, and you start to get a handle on Senna, the man who once declared: "I am not designed to finish second or third, I am designed to win."
I interviewed him a fortnight after that debacle and asked him to talk me through the incident, using a series of photographs. Incredibly, he refused to believe the evidence before him, even claiming that Prost's rear wing had fallen off, rather than been removed by his own recklessness. Yet a year later, in a tirade at the same track, he finally was able to admit what the world already knew - he had done it deliberately to rectify the injustice he felt from the previous year.
Of course he was a sublime racer most of the time, combining blistering speed with tenacity and that almost incomprehensible commitment. He set new records for pole positions, and won 41 races and three titles. But why, if he was such a thug occasionally, is he so revered, two decades after his death in the San Marino Grand Prix at Imola on May 1, 1994?
Well, because there were two Sennas. One was that intimidatory hard man, whose occasionally uncouth driving manners, later echoed by his successor Michael Schumacher, filtered down to taint the sport's grass roots. But behind the carbon fibre-hard shell he had fashioned around himself lived an extraordinarily sensitive and compassionate man, a charismatic philosopher king who was deeply religious and whose conversation was often mesmerising. He was adored by his countrymen not just for his driving skill but for his understated generosity and his determination to use his Senna Foundation to improve the lives of children in Brazil's myriad favelas.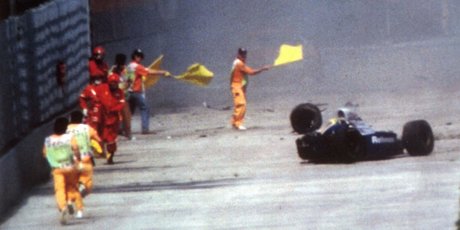 After he had crashed while leading at Monaco in 1988, where he had pulped Prost by an embarrassing 1.427 sec in qualifying but lost concentration while running half a minute ahead of the Frenchman, he opened up about his religious beliefs.
"After that accident, God started to talk to me through the Bible. I opened the book, I prayed, I opened up my emotions, I was asking Him and I opened the book exactly where my questions were answered and from where I got courage and persistence."
He might not always have driven in a manner of which God might have approved, but in so many other things he was a generous spirit. The French driver Erik Comas, who was distraught at Imola after seeing Senna's accident in close-up, never forgot the way Senna had stopped to help him when he had crashed in Belgium the previous year.
"I was so shocked and ineffectual. Helpless," he said of Imola. "My spirit and body wanted to go and join him on the track, but there was nothing I could do. I completely cracked.
"Especially in this moment I remembered when I had my big crash in Spa, when Ayrton came to stop my engine while I was unconscious.
"You cannot forget someone like that. He maybe saved my life. He was not the first one on the scene. Many cars passed, including my own teammate but only Ayrton stopped."
Senna was always there when rivals met trouble. He went to the scene of Martin Donnelly's terrible accident in Jerez in 1990, and did likewise with Roland Ratzenberger, the gentle rookie who died the day before his own demise.
Had he won at Imola, Senna, the compassionate Brazilian, had intended to wave an Austrian flag in Ratzenberger's memory.
An hour after the Donnelly accident, he revealed his true mettle, by returning to the track and smashing the lap record as if to prove that no mere circuit could break the human spirit.
I asked him about that extraordinary performance.
Had he deliberately ventured to the edge of the pit and looked over to learn something, to prove something to himself?
There was a very long pause. Thirty-seven seconds. His deep brown eyes welled up. When he finally spoke, his voice was a whispering rasp that you had to strain to hear. "For myself," he said. "I did it because anything like that can happen to any of us. I didn't know how bad it was. I knew it was something bad, but I wanted to go to see for myself."
There was another long pause, as I asked him if he felt he'd had to be brave to do that. Now his eyes were swimming.
"As a racing driver there are some things you have to go through, to cope with," he said at last. "Sometimes they are not human, yet you go through it and do them just because of the feelings that you get by driving, that you don't get in another profession. Some of the things are not pleasant, but in order to have some of the nice things, you have to face them."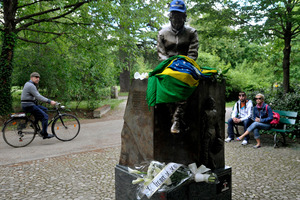 He always came through such personal tests with honour.
Was there ever anyone else quite like Ayrton Senna?
Yes, there were fast men, the yardsticks of their generations: Fangio, Clark, Stewart, Lauda, Gilles Villeneuve, Prost, Mansell, Schumacher, Hakkinen, Alonso, Hamilton, Vettel .
But it falls to few racers through a combination of their status, humanity and, in Senna's case, contradictory off-track humility to transcend their sport and achieve greatness because of who they have become, rather than what they did.
He was sensational yet flawed, charismatic yet humble, and a man dead these 20 years still has pole position on that score.
-INDEPENDENT
•Senna fans can't get much closer to the man than at the McLaren Auckland showroom - the late legend's McLaren MP4/4 Formula One car is currently on display.