After wrapping up NZ title, teen looks to repeat feat across ditch, writes Andy McGechan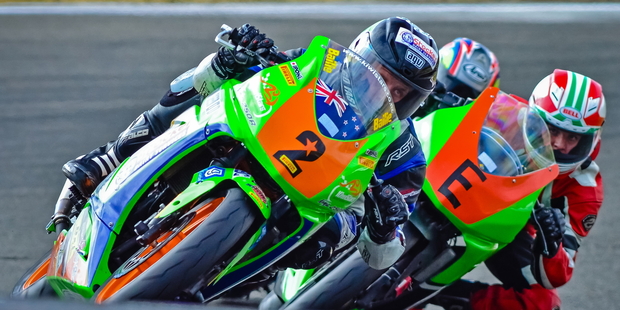 It's one down and one to go for rising motorbike star Bailie Perriton, the 16-year-old Kawasaki sensation from Ashburton.
He easily wrapped up the national 250cc Production Class title at the fourth and final round of the New Zealand Superbike Championships at Manfeild at the end of last month, his first national title, and now has his sights set on repeating the feat across the Tasman.
Perriton (Kawasaki Ninja 250) arrived at Manfeild, on the outskirts of Feilding, with three races up his sleeve and only five races to go and it clearly would have taken a major disaster for him not to have clinched the title.
Although under no pressure, he still pushed himself to finish 2-2-2-2-1 in his five outings in the Manawatu that busy long weekend, dominating the class at the three-day event and stretching his championship-winning margin to an incredible 170 points over the next best rider, Blenheim's former national champion Tim McArthur.
In a campaign so dominant that it defied belief for a rider so young, he set new 250cc lap records at all four rounds - at Ruapuna, at Levels, at Taupo and Manfeild.
"It's a big buzz for me to win a national title. It is only the 250cc class but it is still a good achievement to start off with. I don't know yet what class I might race in next season. It will probably take me a year to figure it all out."
Perriton is studying in a trades course at Ashburton College - where he is learning the skills needed to be a builder, plumber, panel-beater, engineer and painter - but, with the way his motorcycle racing career is progressing, it seems his next few years will be spent on race tracks around the country and overseas, rather than up a ladder or under the bonnet of a car.
Perriton recently made his first big trip overseas when he headed to Australia to compete at the first of six rounds in the FX300 Cup Championships at Wakefield Park, near Sydney, and he was in action in six races over the two days.
"That was my first time out of the country and only my third time ever on a plane," he revealed.
Despite racing a second-hand, stock standard Kawasaki Ninja 300 against the modified bikes of his rivals, and on a track he'd never seen before, he finished third in each of those Australian championship outings.
The next round of the FX300 Cup is set for Mallala, north of Adelaide, in May, and he's wasting no time in between.
"We'll be doing testing on the suspension to get the settings right for Mallala and hopefully that will allow me to get some better results there," Perriton said.
The 250cc production class in New Zealand has a history of producing great Kiwi motorcycling stars. Nine-time national superbike champion Andrew Stroud, former world superbike championship frontrunner Aaron Slight and former world superbike championship and former 500cc GP star Simon Crafar can all trace their beginning to this division of racing.