After a tough year, Mercedes Supercars team come through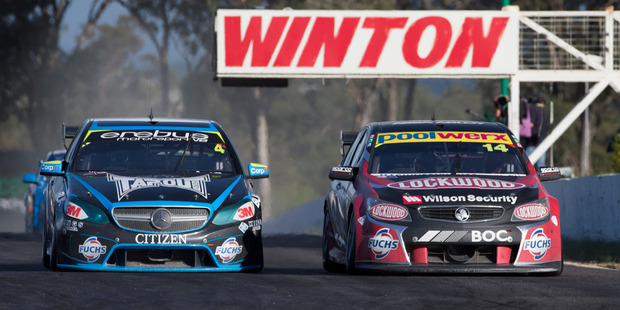 Just a few days after chasing a burglar out of his house, V8 Supercars' driver Lee Holdsworth chased down Erebus Motorsport's first win in the competition, and team owner Betty Klimenko is now the first female team owner to notch up a win in the category.
The AMG Mercedes E63 driver pounced on Kiwi driver Fabian Coulthard late in race two at the Winton 400 to scorch to his first win in four years.
While Klimenko's two cars (second car driven by Will Davison) may sport the Mercedes-Benz star on the grill, the team are not factory backed. It is reputed that Klimenko has tipped in around $30 million since joining the tin-top series and to get their first win was a monumental fillip for all involved.
"It has been a highly emotional 12 months," said Holdsworth.
"It's been so tough. We've had up but mostly downs. We came into this year with a much better car and it's actually caught me by surprise that we have made that massive step over the break."
Holdsworth's joy in winning the team's first race was echoed by Klimenko: "To every single fan and person who stood in the rain with me, for this guy who believed in himself all of last year and all the people that believed in him - thank you so much," she said.
Holdsworth and Klimenko were the faces of the win, but there were some high-fives going on back in the garage while the celebrations were going on further down pit lane with Kiwi blood, sweat and tears involved in the win.
Erebus had a fraught first year in the category in 2013, struggling with consistency and engine power. In the off-season the decision was made to bring the engine preparation back in house, and Ross and Jimmy Stone's years of V8 experience and innate ability to build race-winning engines has come to the fore again.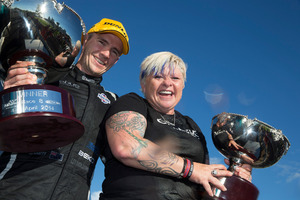 "It took a while to get things up to speed but the cars are pretty good now," said Ross Stone. "The engines were the biggest things that need an extra boost to be honest, and Pukekohe should be okay for us."
However, there is a slight hiccup. Stone discovered that changes in engine temperature were affecting the power output during a race, and at times having a major impact on race pace.
"Put it this way, if the temperature rose quite a lot in a Ford engine we'd lose about 3kW. In our engines at the moment if the temperature goes up quite a lot it can lose up to 30kW, which is a lot.
"The German engineers we were dealing with were some of the best, but it's good to have everything back in house. We know the type of cars needed to run here, the type of tracks they run on and in what temperatures they run best at."
Erebus now have a few runs on the board with the win to go along with their earlier fourth place finish, so heading back to Stone's spiritual home at Pukekohe is something he's now really looking forward to.
Last year was the first time the V8 Supercars had been back at the South Auckland track since 2007 and the Erebus cars struggled as it was very early on in their development phase. This time around over the Anzac weekend, Stone is confident it's going to be a whole new ball game.
"Last year we were scrambling. We might need a little bit more engine speed but it's so close now I'm confident we'll be able to hang in there," he said.