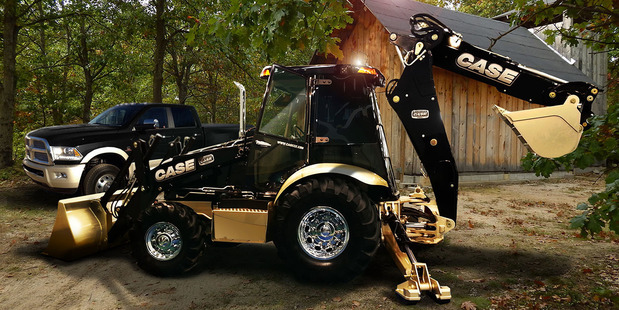 This makes so much sense, The Good Oil is simply staggered no one has done it before.
Ram and Case have teamed up to build a one-of-a-kind Ram 3500 Laramie Longhorn Crew Cab 4x4 and matching Case 580 Super N Wide Track Backhoe.
Yes, you read that right - a Ram pickup, with a piece of matching heavy machinery.
While other manufacturers ponce around with matching luggage and other such girlishness, Ram and Case went Full Man with their collaboration for the rather awkwardly named CONEXPO-CON/AGG 2014 show in Las Vegas.
In keeping with the location of the show, the Ram and backhoe are painted a "tasteful" two-tone black-and-gold colour scheme, complete with brown leather, Laramie badges and chrome trim. Plus chrome wheels for the backhoe.
The Ram is huge and powered by a stupidly big 6.7-litre Cummins turbo diesel V8 and its matching backhoe has chrome wheels; and that is literally all you need to know.
We are the world
*When police in Alberta, Canada, pulled over a car that was being driven erratically and almost caused an accident, they expected to find the usual drunken idiot behind the
wheel.
Instead, they found a completely sober 27-year-old Mark Rothko, an all-new kind of idiot. It seems Rothko had been trying to drive his car with an anti-theft club attached to the steering wheel. After he was pulled over and ticketed, Rothko removed the club and went on his way. Yes, really.
*A man in Massachusetts, US, was arrested recently for trying to pass off a newspaper clipping as a state inspection sticker. Of course, if he had simply not displayed an
inspection sticker, it would just have been a US$50 fine.
Brutal on the wallet
The AEV Brute is, at heart, a Jeep Wrangler.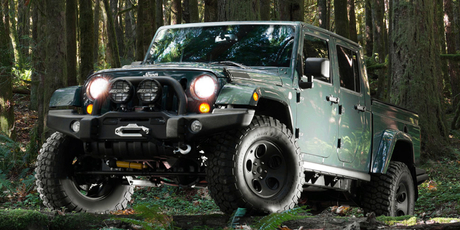 It is a Jeep Wrangler that has been converted into a pickup, something that it seems all of
America demands, but Chrysler refuses to build.
Now, for those who have the desire to spend Range Rover levels of money on a luxury version of an after-market ute conversion of a rugged off-roader (did you follow all
that?), AEV has teamed up with Filson _ the maker and seller of expensive, hipster-style outdoor clothing and accessories _ to produce the AEV Brute Filson Edition.
Now a Brute conversion will cost you between US$29,999 ($35,418) and US$39,000 ($46,044) not including the price of a Wrangler (which begins at US$26,195 for the
Unlimited 4-door), but the Filson Edition takes things to a whole new level of silliness by costing a colossal US$130,000 ($153,483) complete.
For that, you get the exclusive dark green exterior paint, Horween leather seats _ accented with durable, Rugged Twill panels _ Rugged Twill custom rear seat storage bags behind the seats, Filson badges literally everywhere and a custom tonneau cover. And
that is it.
No, really, that's it. For your extra US$60K (roughly) you get green paint, leather seats, a tonneau cover and some bags.
While the AEV Brute is awesome and the green really suits it, The Good Oil imagines you could get something pretty similar from your local car painter for a hell of a lot less.
Slowpokesm beware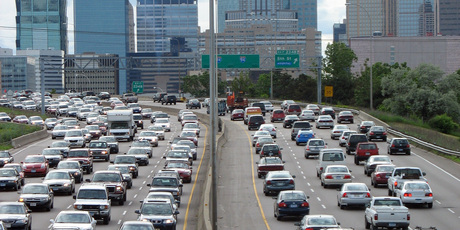 Picture / Drow/rgbstock.com
The US state of Georgia may well be on track to become the best place to drive on a motorway in the world after a bill was passed almost unanimously by the House of
Representatives recently.
The bill, unofficially known as the ''Slow Poke'' bill, will make it an offence to hold up faster traffic by sitting in the inside lane of a freeway.
Yes, that's right _ a cop in Georgia might soon be able to pull you over and give you a ticket for the all-too-common act of being an ignorant prat in the fast lane.
The bill was introduced by Representative Bill Hitchens, who just happens to be a former state trooper. ''I always say it's the manners your momma should have taught you; if someone pulls up behind you, you move to the right and let them by,'' Hitchens told MyFox Atlanta.
The bill would allow for penalties of up to NZ$1180 in fines and 12 months' jail and still has to be passed by the state senate before it can be signed into law.
When Americans say medium duty, they mean ...
Say the phrase ''medium duty truck'' on this side of the planet and you would think of a Hino 500 or a Fuso Fighter _ a medium-sized truck (funnily enough) with biggish six-cylinder turbo diesel engines and literally no excitement about them, certainly not visually anyway.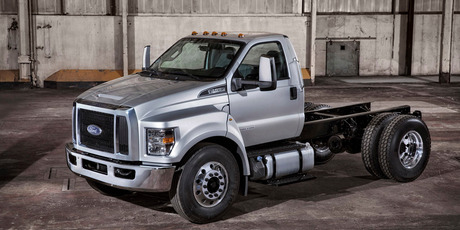 Say the same phrase in the Good Ol' US of A and what you see above is what you get _ the newly revealed 2016 Ford F-650/F-750 and it is just all kinds of awesome.
But it is not just the Big Truck looks that make the biggest F-Series awesome, they have some pretty serious engines lurking under that big, tough nose, too.
The engine of choice for the Real Man is, of course, the 6.8-litre petrol V10 that will no
doubt enable you to pull the front off a building and make several endangered species extinct with a single flex of your ankle.
For the slightly less profligate Real Man, the V10 can be optioned to run on CNG or LPG for lower running costs, fewer Man Points and the eternal scorn of all your trucker friends.
For the Sensitive Man in touch with nature and concerned about the plight of, I dunno, squirrels or something, there is the ''little'' 6.7-litre diesel V8 option.
The Ford F-650/F-750 is ridiculous and unnecessary and we want one so bad ...
Number Crunching
6.8 LITRES The capacity of the petrol Triton V10 in Ford's F-650.
8.3 LITRES The capacity of the V10 in the Dodge SRT Viper.
28.3 LITRES The capacity of the four-cylinder 1911 Fiat S76.
106 LITRES The capacity of the 20-cylinder, quad-turbo diesel Caterpillar 797F dump truck.