The Royal Enfield harks back to earlier days, writes Paul Charman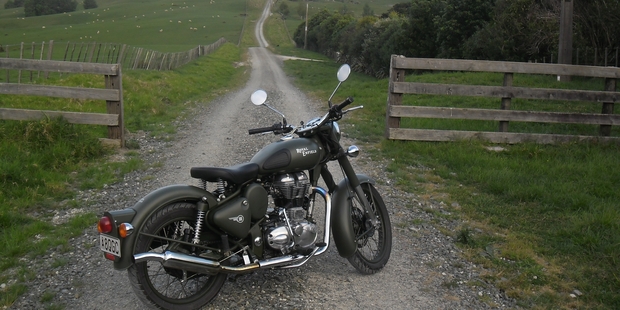 When Trevor Clark - of Royal Enfield NZ Ltd - suggested I take his barely-run-in demo bike on an adventure, I leaped at it. I'd barely ridden for 30 years and had no riding gear but had long been captivated by the retro beauty of the modern-day Enfield.
I picked up the Enfield bike from Trevor's Albany-based bike business, fired up the 500cc single cylinder motor, and was riding north on SH1 faster than you can say "cult motorcycle".
And the Enfield certainly is one of those. Demand for these retro-styled singles is huge. Trevor and his son Michael pre-sold their current shipment of five units, though more are expected in a month. Kiwis generally must pay a deposit then wait a month or two to get their hands on a Royal Enfield.
In India, where the bikes are made and where about 90 per cent end up getting sold, folk pay down their money and wait almost a year for delivery.
Royal Enfield was a Worcestershire-based British company that dated back to the 1890s. The Indian Enfield Bullet 350 began production in Madras (now Chennai) in 1953. The Bullet outlasted its British parent company and went on to enjoy the longest production run of any motorcycle.
About 10 years ago the 350 - with drum brakes, carburettor, points and caste iron-sleeved engine - was bored out to 500cc.
These bikes were the last of the Mohicans, and they're now in high demand for movie props. Royal Enfield India then went back to the drawing board and replaced these with a redesigned bike, preserving the classic British 500cc concept while adding modern technology.
These bikes are fuel-injected, have electronic ignition and come with modern gas-filled suspension, an effective front disc brake and other luxuries. They remain hand-built rugged performers, to the point where mine - with upswept after-market muffler - did quite well as an "almost adventure bike". My Enfield produced about 27hp at just over 5000 revs, while the maximum torque was 41Nm at 4000. This suited me, as the result was first rate tractability sans the risk of a speeding ticket. Despite my 107kg bodyweight and 20kg pack, my bike never ran out of breath. Though not fully run-in, it accelerated in its top fifth gear up the steepest hills Lower Northland had to offer. I kept the speed from 80km/h and 110km/h and comfortably held my own in the heavy traffic. Without a screen to reduce wind pressure on the body (though you can get one as an accessory) who would wish to go faster on a holiday weekend? Suspension is relatively short travel compared with a true adventure bike, but that 1940s-style sprung saddle certainly remained comfortable during my 258km trip.
From filling the tank before and after, I learned that the bike drank just slightly under five litres per 100km (about 60mpg) and when properly run in this will improve no doubt. The engine noise was a never obtrusive purr, even with after-market exhaust. Riding position is classic British sit-up-and-beg and this, combined with the spring seat, makes the bike comfortable over two days.
My only complaints were limited to a lack of front brake sensitivity at slow speeds, a shortish gear lever which I found awkward to use for the first hour, and a green indicator warning light which I could hardly see. Aside from such trivial concerns, the Enfield showed itself a light, narrow and responsive mount, which started easily and offered much riding pleasure. About one in five people I met came up to ask about the bike, a mixed blessing on a tight schedule.
You resign yourself to chatting with fellow enthusiasts if you own an Enfield.
Chrome quality isn't great but aside from that the bikes are well finished. They come in emerald green, black, chrome-tanked or burgundy colours. Mine just happened to be an olive green military paint job.
The bikes cost between $9000 and $10,000 depending on on-road costs and what extras you have fitted. In my view all this adds up to making a Royal Enfield competitive with any of the Japanese mid-range equivalents. As a commuter or light tourer my bike would work just as well as the others, while to old-school eyes, looking heaps more interesting.