Rugby player's Grand Cherokee turns his fellow players green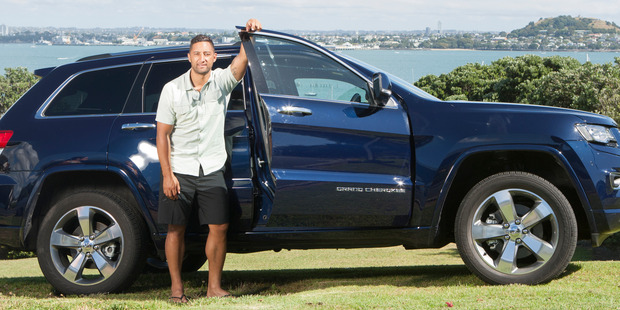 You have only one chance to make a first impression, so when former rugby league star Benji Marshall turned up to his practice for the Blues in a blue Jeep Grand Cherokee he certainly got the attention of his fellow players.
Since Benji and his wife, TV and radio presenter Zoe Marshall, moved from Sydney late last year to Auckland, the sportsman has become a Jeep ambassador.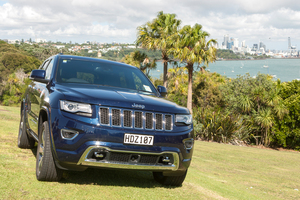 "I've never had a blue car so, since I'm playing for the Blues, it makes sense for me to drive a blue Jeep," says Benji.
"When I turned up to the first practice [for the Blues] I tried to hide the Jeep away from the players but they saw it."
And, what did they think of your 3-litre V6 Jeep Grand Cherokee Overland diesel? "They were impressed," said Benji.
And since that first practice Benji has racked up nearly 10,000km in a series of blue Cherokees. "I'm really impressed with the fuel economy of the diesel," says Benji.
In between his daily practices with the Blues, Benji has had a number of trips home to see his family in Whakatane, and has shown his Australian wife around Auckland and its nearby beaches.
Brought up in rural Whakatane, Benji learned to drive at age 7 on the family farm.
"I sat on my dad's lap as he drove the tractor, and I had my first accident when I was 11 when I turned too tight for the gate and hit the fence. My dad wasn't impressed as he was trying to feed out the cattle from the trailer at the back of the tractor. I've never taken a corner too tight since then."
At 16 Benji moved to the Gold Coast to play league, so arrived in Australia with his learner's licence, before having to move to P plates. He had his full licence by the time he was headhunted for the Wests Tigers - commuting every weekend as a schoolboy from Queensland to Sydney.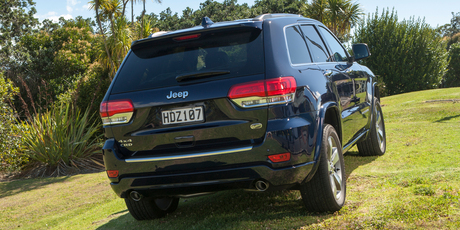 Although he was at the beginning of what would soon become a spectacular league career, his first car was an old Mitsubishi Mirage.
"It had four gears ... and was rusty, with cockroaches in the boot. I had to live in the car for a while so I had cockroaches in my clothes."
Not such a glamorous life for the outgoing sportsman.
But within a few years he'd moved from a Mirage to sponsored vehicles for the Wests Tigers.
Benji's first sponsored vehicle was a Suzuki Grand Vitara before moving to Lotus supercars that were part of the league team's sponsor. He drove an Elise, Exige S and Europa - all by the age of 24.
"I thought I was pretty cool," said Benji nonchalantly.
He then leased a series of vehicles - from a Lexus IS to a Range Rover - before his move back to New Zealand.
Benji's been impressed with Kiwi drivers compared with Sydneysiders.
"They never let you merge into lanes in Sydney when you're on the motorway ... Aucklanders are better drivers than in Sydney," he says.
Though his pet hate is people not waving "thank you" when he lets them into traffic or ahead of him on the motorway.
And whenever he's driving he listens to the radio - Flava in the morning and ZM in the afternoon where Zoe is a DJ.
In his role with Jeep New Zealand he's been promoting the brand and is also an unofficial car dealer for the company. On his first visit to his family in Whakatane his brother, Troy, was so impressed with the Jeep Cherokee that he bought one himself.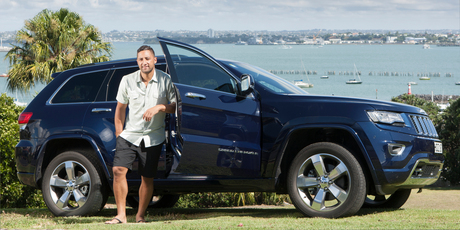 Not blue though, instead Troy traded his Hyundai Santa Fe for a V8 petrol white Grand Limited.
So Benji's now going to outdo his bro, by having his next vehicle as a Jeep ambassador - a white Jeep Grand Cherokee SRT8.
So don't forget to wave thank you if a white Jeep lets you merge ahead of it, Auckland drivers.