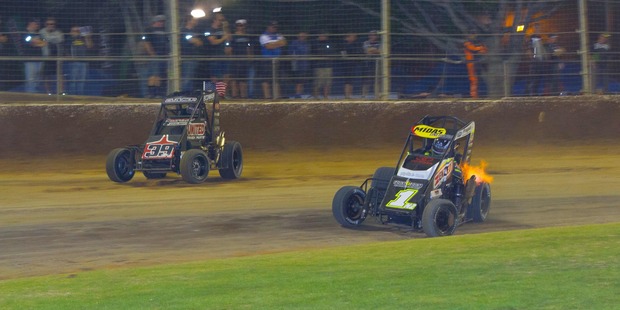 American sprintcar driver Jonathan Allard has endured some terrible luck at WXC Speedway, Western Springs, this season but is hoping to ditch his misfortune tonight by defending his New Zealand Grand Prix title.
Allard, a Springs regular, managed two feature race wins late last year, but since then it's been all smoke and tumbles for the 36-year-old.
"We just haven't fallen into a good rhythm. We've definitely had the car speed but I just haven't made the best decisions at the best times," he said. "It's like anything, when you've had great success in the past and you've been doing it that way for so long, having a slump like this can shake your confidence a bit. The best thing we can do is just pull back to what we know and stop forcing it by trying new things out just because we haven't been as successful this season, which is what we have been doing lately."
Tonight presents the perfect opportunity for Allard to revive his fortunes as he attempts to defend the Grand Prix champion title, which he won in Mount Maunganui last year.
"The biggest thing about the NZ Grand Prix is that it's an established race here, and to have won it last year was quite a great feat for us," said the Californian, who has won more than 15 sprint car championships in the US.
"I always like to win races in New Zealand. This place is turning into my home, with family and friends and sponsors and everyone that supports me in racing here, it would be nice to defend this title."
Gates open at 4pm with racing from 6:15pm. For more information, visit www.springsspeedway.com