Boom in new plants takes supply past Japan, Canada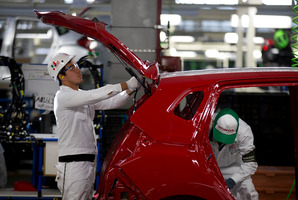 Mexico's 580,000 autoworkers are starting to protest their continuing low wages as the local car industry booms. Picture / AP
Mexico is on track to become the United States' No1 source of imported cars by the end of next year, overtaking Japan and Canada in a manufacturing boom that's turning the car industry into a bigger source of dollars than money sent home by migrants.
The boom is raising hopes Mexico can create enough new jobs to pull millions out of poverty as northbound migration slows sharply. But critics caution most of the new car jobs are low-skill and pay too little. Mexico's low and stagnant wages have kept the poverty rate between 40 per cent and 50 per cent since the passage of the North American Free Trade Agreement two decades ago.
A US$800 million ($968 million) Honda plant that opened this week in the state of Guanajuato will produce more than 200,000 Fit hatchbacks and compact SUVs a year, helping push total Mexican car exports to the US to 1.7 million this year, about 200,000 more than Japan, IHS Automotive consultants say.
Another big plant starting next week will take Mexico past Canada for the top spot by the end of 2015.
"It's a safe bet Mexico is now one of the major global players in car manufacturing," said Eduardo Solis, president of the Mexican Automotive Industry Association.
When NAFTA was signed in 1993, Mexico produced 6 per cent of the cars built in North America. It now provides 19 per cent. Total Mexican car production has risen 39 per cent from 2007 to nearly 3 million cars a year. The total value of Mexico's car exports surged from US$40 billion to US$70.6 billion over that span.
Manufacturing in Mexico is now cheaper than in many places in China, though the vast majority of the cars and trucks made in North America are still produced in the US for domestic consumption and export to other countries.
Many of the vehicles built in Mexico are assembled with parts that are produced in the US and Canada and cross the border without tariffs under NAFTA.
Mexico's Government and the industry say the auto sector is now Mexico's primary source of foreign currency, surpassing oil exports and remittances from expatriates.
Migration to the US has slowed dramatically in recent years, though experts attribute that mostly to tougher enforcement and a slower US economy. Despite successes such as the car-making boom, Mexico still isn't creating nearly enough formal jobs for the hundreds of thousands of people entering the workforce each year.
Mexico has about 580,000 autoworkers, whose numbers have risen by 100,000 since 2008. They are paid about US$16 a day, more than US$4 less than the average US autoworker is paid every hour. More than half of all Mexican workers earn less than US$15 a day, according to Mexico's census agency.
Many car factories in Mexico operate with pro-company unions and some workers have fought without success to form independent unions that could bargain for higher pay and better pensions.
"It's one of the most modern industries that is generating the most money for the country," said Huberto Juarez, an auto industry expert at the Autonomous University of Puebla. "It's not right that these workers are making so little."
Solis, the president of the auto industry association, acknowledges wages are low compared to the US and Canada, but says the boom is creating a new generation of young engineers and funding automotive research in Mexico. A handful of Mexican entrepreneurs have launched boutique car companies in recent years, although their production remains insignificant compared to that of foreign manufacturers in Mexico. "It's not only about lower salaries ... . It's a component of a larger equation that has to do with the expertise we're developing," Solis said.
Much of the new production is by Japanese companies drawn by the ability to move parts in and out of Mexico without tariffs. Local governments have competed for new plants with tax exemptions, employee training and better highways to the US border and ports.
-AP