Some fancied riders have race to forget, writes Andy McGechan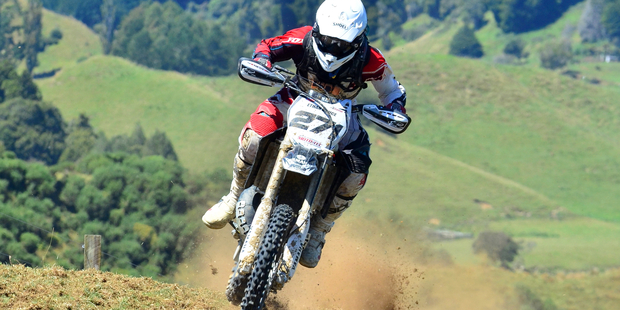 The New Zealand Cross-country Championships could well feature a couple of fresh names on both the junior and senior trophies this season.
The four-round series kicked off on remote farmland at Purangi, in outback Taranaki, inland from Inglewood, just over a week ago and, when the dust cleared, there were two surprise winners standing on top of the two podiums.
Waipukurau 16-year-old Ben Fryer (Yamaha) stood top of one podium after winning the 90-minute junior race by more than two minutes from Otorohanga's Aaron King (Honda).
Third, fourth and fifth in the junior race were respectively Marton's Ethan Breuer, Te Kuiti's Sean Kelly and Wanganui's Seth Readon.
Fryer had finished third overall in the junior class at the nationals last season, but his stand-out performance at the opening round of the 2014 series on Sunday indicate that he could be No 1 when the season wraps up in Marlborough in May.
Then, later in the afternoon, South Island hero Ethan Bruce (Yamaha) finished one minute and 40 seconds ahead of Raglan's Jason Dickey (Kawasaki) as he won the three-hour senior race.
Bruce, from Maruia, near Lewis Pass, took the lead early in the senior race and, apart from being locked in a see-saw battle with Dickey through the middle stages, finally managed to break free and stretch out to a convincing lead before the chequered flag at the Energy Honda-sponsored opening round.
"It helps when you get a good start," said the 17-year-old Bruce afterwards.
"This is my second season racing as a senior and this is the first time I've won. It's a great feeling."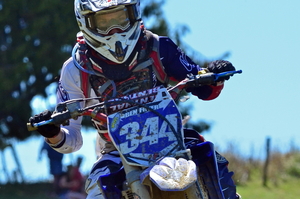 Mokau's national No 1 Adrian Smith (Yamaha) had a shocking start and was forced to fight through from almost last in the 57-rider senior field to claim fourth overall at the finish, albeit more than two minutes behind third-placed Morrinsville rider Nathan Tesselaar (KTM).
Rotorua's Scott Birch (Honda) and New Plymouth's Renny Johnstone (Kawasaki) rounded out the top six.
"To have a bad day and still finish fourth is not too bad," Smith shrugged. "I went berserk on the first couple of laps to make up ground but I blew myself out in the end and just had to settle for fourth."
The series is in its early stages and all the competitors are aware that titles are a long way from being determined. The points from only three of the four rounds are to be counted towards the title, with riders to discard their worst result, so defending champion Smith may possibly be sending his result from the Taranaki event straight to the rubbish bin.
Another rider who had been fancied to threaten for the title this season, Taupo's Brad Groombridge (Suzuki), was up with the leaders soon after the start but he shot off a bank and down a cliff and it needed four of the roving marshals and a length of rope to haul him back up to the track.
He persevered and eventually finished 30th overall.
Stratford's Karl Roberts (Yamaha) was a standout in finishing ninth overall, good enough to win the veterans' (35-44 years) class, while New Plymouth's Greg Ngeru (KTM) also impressed by finishing 17th overall, despite riding with an injury, and this was sufficient for him to win the under-200cc two-stroke class.
Rounds two, three and four of the national series will be held respectively in Huntly (Saturday, March 15), Westland (Sunday, April 13) and Marlborough (Saturday, May 17).