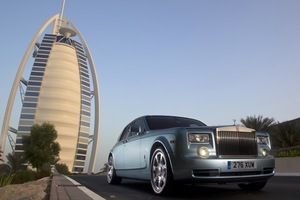 Dubai seems to be a pretty interesting place to be a car fan - what with its fleet of police supercars and all that obvious wealth being bandied around on classy things like gold wheels and diamond-encrusted cars.
But hold on there, poor person - you may soon be out of luck if you can't at least afford a gold-plated Porsche. You see, Dubai officials are considering an unusual approach to dealing with the emirate's ballooning traffic problem; by banning poor people from owning cars.
The Director General of Dubai Municipality, the brilliantly named Hussain Lootah, has flippantly suggested that perhaps Dubai could sort its increasing traffic issues by introducing "a salary limit scheme that would restrict car ownership to those earning above a certain monthly income".
Da Lootah Gangsta (sorry, but he really should start calling himself that ) blames Dubai's rapid rise in wealth for clogging the roads with cars and dramatically increasing rush-hour traffic. "Everybody has their luxury life, but the capacity of our roads cannot take all of these cars without ownership laws," he is quoted as saying.
And while he didn't say it, we would like to think he added "Yo sucka, you be trippin' if you think my rich homies wanna ride dirty in heavy traffic wit all these po' fools on the roads."
Even if Dubai doesn't go ahead with salary-based restrictions on car ownership, authorities say they are committed to reducing congestion with other options including an increase in parking fees, fuel prices, toll road fees and insurance costs.
Ken Block's probably done it by mistake, though
It must be tough being a former skateboarder, television personality and car guy and NOT
actually being Ken Block. Well, Ken's mate, Rob Dyrdek has found a way - by setting the
world record for the longest reverse jump in a car of 27.21m.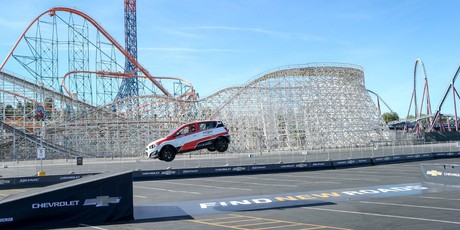 Done as a stunt for the season finale of his TV show Rob Dyrdek's Fantasy Factory, he
made the backwards jump before spectators at Six Flags Magic Mountain driving, of all
things, a Chevrolet Sonic, otherwise known in New Zealand as the Holden Barina.
It's the second time he's used a Sonic to set an automotive first - in 2011, he performed a 360-degree kick-flip off a ramp.
''The Sonic is a great car for firsts,'' said Dyrdek. ''I've always been a Chevy guy, so
when we decided to set a Guinness World Record for the finale of Fantasy Factory, using the Sonic again just made sense.''
A decision not at all helped by Chevrolet giving him the car and, in all probability, lots of money to do the stunt with. Still, it does look very cool (and, to be honest, a bit terrifying).
It's NOT a DB7, okay?
A month ago, The Good Oil brought you news of the resurrection of the name David
Brown in the world of British sports cars.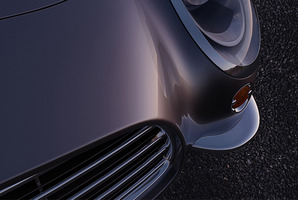 You know, the bloke with a name the same as the bloke who saved Aston Martin in the late 1940s and, as a result, has had most Aston Martins feature his initials ever since, is attempting to launch his own ''all-new'' British sports car that in no way will be a blatant cash-in on his handily famous namesake?
David Brown Automotive has released a few more details about its all-new-in-no-way-derivative car. It will be based on the platform of the Jaguar XK, but with ''completely bespoke'' interior and exterior styling. The engine will be Jaguar's 5.0-litre
supercharged V8.
Also released were shots showing details of styling, that is in no way reminiscent of that other David Brown's cars. Oh wait, yes it is, completely and utterly. It looks like a DB5. So a new car with Aston Martin-esque looks based on Jaguar XK underpinnings? Sounds pretty much like a DB7 to us ...
We are the world
*A 10-year-old boy in Oslo, Norway, recently loaded his 18-month-old sister into their
parents' car early one morning while they were sleeping and headed off to his grandparents' house, some 110km away.
He made it about 9km before crashing into a ditch, but here's the best bit: he told the police who responded that he was a dwarf who had forgotten his driver's licence.
Such genius in one so young.
*Studio Diip is a technology company that specialises in making stuff that uses image recognition technology, which is rather boring to read about how it works.
So to overcome this boring aspect they have come up with a slightly fishy way of demonstrating what they can do.
Literally; they have given a fish a set of wheels.
The fish's tank is attached to the underpinnings of a remote control car and an overhead camera tracks what direction the fish is swimming in, simultaneously steering the car
in that direction, effectively letting the fish explore until its fishy little heart is content.
Porsche Photoshop fail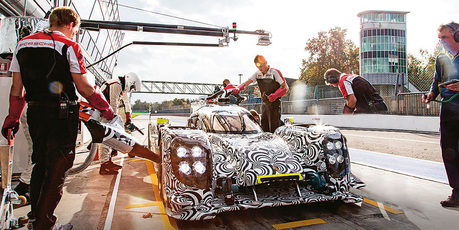 The Porsche 919 was testing at Monza, so Porsche's PR people did what PR people do when they really have nothing to say but feel the need to say something anyway - they sent out photos of the testing. Except it seems they left something out of the
photo you see here. Go on, take a good look and see if you can spot it ...
Hint: the floating mechanic with no legs. We take this opportunity to offer a timely reminder to the Porsche PR department: Photoshop is a great thing for removing unwanted elements in an otherwise good photo, but DO remember to remove them entirely ...
Now you see me ...
All Sweden has previously given the world is Abba, Max von Sydow and Absolut Vodka (presumably so we could try to forget Abba), but now they have a new achievement that
we hope may spread throughout the rest of the world - the camouflaged Audi.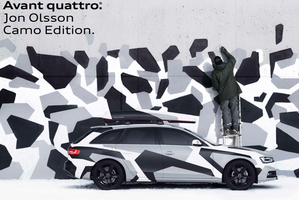 Extreme skier, X-Games medallist, car enthusiast and noted Swedish person Jon Olsson has teamed up with Audi in Sweden to offer a limited run of Audi A4 wagons with his signature camouflage pattern emblazoned across them.
Finished in the same camo as Olsson's own RS6 Avant and Lamborghini Gallardo (yes, really), the Jon Olsson Camo Edition A4 Avant costs a staggeringly reasonable 399,900 Swedish krona ($74,200) and, as well as the camo finish, comes equipped for the slopes with sports seats, a roof box, xenon headlights, 19-inch black alloy wheels (with winter tyres), sport suspension and an S Line exterior kit.
The Camo Edition is available only as a 2-litre TDI quattro Avant and only 50 will be made, so you had better get in touch with your friendly Swedish Audi dealer if you
really want one. And you know you do.
Number Crunching
27.21 METRES Rob Dyrdek's latest record for jumping a car in reverse.
81.99 METRES Travis Pastrana's record for jumping a car in the more traditional forward direction in 2009.
36.9 METRES Thomas Strobel's record for jumping a remote-control model car. Still further than Dyrdek.
0 METRES Oddly, the record for the HIGHEST jump in a car remains unclaimed. Who's keen for a local attempt?