Electric convertible restored and on show after 112 years in storage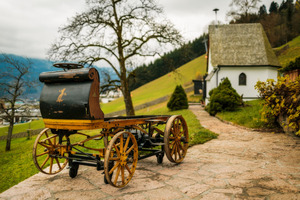 At first glance it looks more like a horse-drawn carriage than a car, but the 19th-century styling of the first Porsche ever built is hiding a vehicle that was technologically ahead of its time.
Official known as the "Egger-Lohner electric vehicle, C.2 Phaeton model", this four-seater was built by hand by Ferdinand Porsche himself in 1898, and according to Porsche it's been untouched since it was "parked in a warehouse in 1902".
Also known as the P1 (the code that was engraved on each part, standing for "Porsche #1"), the 1350kg vehicle was battery powered with a range of up to 80km or three to six operating hours.
With an average output of 3 horsepower (boosted to 5 in "overloading mode") the P1 could reach speeds of up to 35km/h and was one of the first vehicles ever registered in Porsche's native Austria.
It was even a convertible of sorts, with its featuring of an "alternative vehicle body" that could switch between a closed Coupe style for Winter and open Phaeton design for summer.
Despite their slow return to the mainstream, electric vehicles were fairly popular during the advent of the motor car, with Porsche racing the P1 at the 1899 international motor vehicle exhibition in Berlin alongside 18 other electric vehicles.
Porsche drove the car himself with three passengers on board, traversing a 40km long course that included multiple gradients (no easy feat back then) as well as an 8.6km long racing stretch.
Not only was the P1 first to cross the finish line (beating second place by a full 18 minutes) but it even managed to come out top in an efficiency test, recording the lowest energy consumption in urban traffic.
It is curious to think about how different cars of today might be if manufacturers' enthusiasm for electricity had endured.
The P1 has now been restored by Porche and sits in the company's museum in Stuttgart.
-Independent