Timaru meeting goes off with a bang, writes Eric Thompson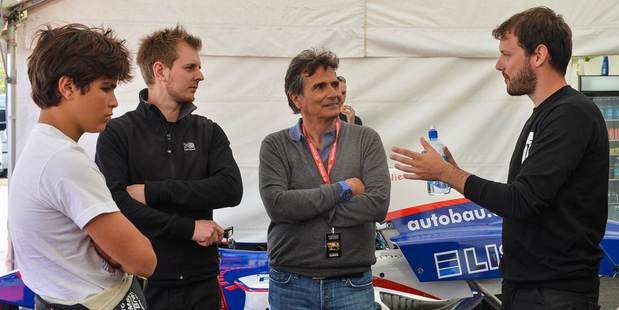 Motor racing is a complex sport and never more so when it comes to the equipment drivers need. As with anything that's highly tuned they can be damaged easily and, early in a championship, team principals aren't too keen to see their drivers crashing and bashing the cars.
The Toyota Racing Series is a 15-race championship over a compact five-week time frame and no one wants to spend most of that time burning the midnight oil repairing damaged cars. Unfortunately a number of drivers at the second round of the TRS championship in Timaru last weekend seemed to be trying to destroy their cars.
The road between the garages was littered with broken nose cones, floor pans, steering components, wings, side pods and other bits and pieces.
Organiser Barry Tomlinson must have been shaking his head in disbelief at the fallout from schoolboy racing errors. Funnily enough, a lot of the blokes driving these single seaters are schoolboys.
Some drivers must think there is an unlimited supply of parts - which there are not. It's either that or they've got stock car racing mixed up with open wheel racing.
One of the teams caught up in Saturday's huge melee, M2 Competition, had a long night fixing one of their cars.
We must point out the driver in question was in the wrong place at the wrong time and was on the receiving end of a shunt big enough to damage the tub.
M2 Competition are looking after six drivers this year. The team was established in 2010 by Kiwi Mark Pilcher and Belgian Jonathan Moury, who have experience in DTM, Champ Car, GP2, WRC, A1GP, Le Mans Series, GP3, and the Toyota Racing Series. Their aim is to help young drivers get a toe on the ladder to success.
As well as his M2 duties, Moury is a member of the BMW DTM (German Touring Car championship) team and has worked in A1GP, LMES, WTCC, FIA-GT, AutoGP and Superleague.
Three-time world Formula One champion Nelson Piquet has brought his 15-year-old son, Pedro, to New Zealand to cut his teeth in single seaters after moving up from karting. Piquet decided to place his son with M2.
Moury is more than a little concerned about the lack of race craft and decent decision making by some of the drivers, especially early on in the series with so many races left to go.
"The team did a sterling job in rebuilding the complete car in seven hours, which is normally a two-day job - everyone in the whole team gave a hand," said Moury. "A big crash is not something you want to see so early in the championship.
"The safety aspect of the cars is great as Macauley [Jones] only had a sore knee - it's a testament to how well the cars are made."
The first corner at Timaru, where the big accident happened, isn't the easiest to negotiate on the opening lap when 23 drivers are jostling for position. A little bit of caution early on in a race can pay dividends, but some drivers feel a need to force the issue.
"There's only space for one car, not three - it just doesn't work," said Moury. "Some drivers have to realise the consequences of their actions and how they impact not only on their team's chances in the championship but other teams who get caught up.
"We have quite a few rookies this year and they don't know their limits yet and push too hard. I'd rather they pulled back a little to start with and learn what racing with lots of other cars around you is all about.
"We tell our drivers to show respect for others on the track and how important that is because we don't want them hurting someone else."
The third round of the TRS championship is this weekend at Highlands Park near Cromwell.