Ferrari fans are treated to a rare sight at Hampton Downs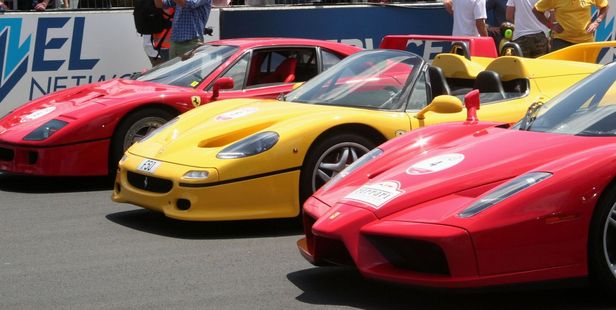 Lovers of all things Ferrari converged on Hampton Downs Raceway over the weekend for a NZ Festival of Motor Racing dedicated to their favourite machines.
The celebration drew a large crowd, with tifosi - as Ferrari fans style themselves - dressed from head to toe in Maranello merchandise and memorabilia.
"Every year we alternate between celebrating a famous driver or a particular marque," said chairman Jim Barclay. "We started with Bruce McLaren, then Chris Amon and BMW Motorsport. Last year was Denny Hulme, so this year we decided to celebrate Ferrari."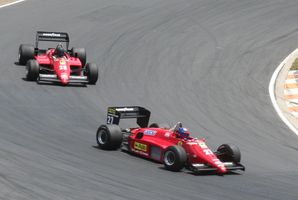 The big attraction was three Ferrari Formula One cars. Two 156/85s from the 1985 season, driven by Michele Alboreto and Stefan Johansson, paid tribute to one of the most memorable eras of Formula One.
"The 1985 Formula One season is widely considered by the F1 community to be one of the best and most exciting of all time and to have two of the most iconic cars from that era of Formula One at a NZ track, and at our event, is obviously very exciting," said Barclay.
The two turbocharged V6 cars from Australia, owned by Guido-Belgiorno-Nettis, were accompanied by an ex-Gerhard Berger 1994 412T.
"Having a V12 Formula 1 Ferrari screaming round Hampton Downs is really exciting for Kiwi Ferrari fans."
Both cars performed demonstration runs and the 156/85 competed in the F5000 class against Clark Proctor's March 73A and the Steve Ross McRae GM1.
A display of the limited production run 288 GTO, F40, F50 and Enzo hypercars was another highlight. A Kiwi-built replica of the rare 250 GTO completed the five-car line-up, each of which was driven around the track.
"Apart from the newest LaFerrari, which has only just been made, the representation of all five flagship cars is something you would not see in many places," said Barclay.
Thanks to the New Zealand Ferrari Owners Club, a record 141 Ferraris, covering every era, attended the first weekend of the festival, smashing the previous club record of 76. They ranged from a 1954 250 GT Europa, to the newest production F12 Berlinetta.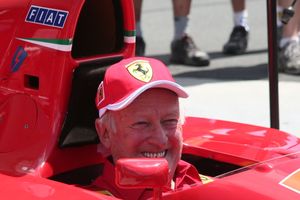 As a former Ferrari Formula One driver, New Zealander Chris Amon made an appearance for the parade of Ferrari road cars.
The impressive convoy was led by a pre-war Scuderia Ferrari Alfa Romeo 8C 2300 Monza.
British driver Michael Lyons completed a winning trifecta in the F5000 Tasman Revival series class in his Viceroy Lola T400, while the BMW open and Muscle car classes made for great racing. Two Nascar Nextel Cup stock cars also made an appearance.
The festival will run for a second weekend from January 24-26.