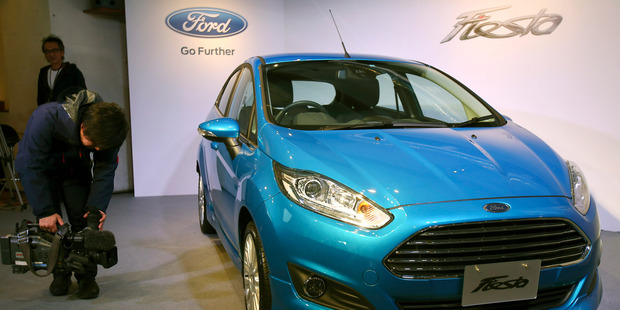 Ford's Fiesta compact is back in Japan despite failing a decade ago in a market dominated by strong local brands.Picture / AP
The US compact was blitzed in Japan, but its makers are trying againFord's Fiesta compact is back in Japan after failing a decade ago in a market dominated by Toyota and other strong local brands that specialise in small cars.
Japan Ford president Toshio Morita, unveiling the 2.3 million ($26,600) model late last week, would not talk about trade barrier and currency manipulation allegations being voiced by Ford headquarters in Dearborn, Michigan, and other American carmakers.
The complaint is that Toyota and other Japanese manufacturers get an unfair advantage in selling their products in the US while American makers are denied equal access in Japan.
Japanese carmakers say they are competing fairly but are relieved the dollar is strengthening as a result of aggressive Bank of Japan policies designed to weaken the yen.
Ford has struggled in Japan and stopped selling the Fiesta after selling only 2800 of them between 2004 and 2007. The Fiesta is one of Ford's top-selling models, and more than 720,000 are sold worldwide annually.
Last year, Ford sold 3500 vehicles in Japan, about half of them Explorer sport-utility vehicles. Even that number is a triumph for Ford, which has increased its sales in Japan every year for the past four years.
General Motors has also said it is trying to beef up its business in Japan, although it barely sells 1000 vehicles a year there.
Although Japan's five-million-vehicle market has languished in recent years, last year was a record year for imports at 280,540 vehicles, making up 8 per cent of total sales, according to the Japan Automobile Importers' Association.
American carmakers have long had an image problem in Japan as making only lemons. And Japanese manufacturers have a loyal following in their home country, where the economy depends on the welfare of the likes of Toyota and Honda. Toyota controls about 40 per cent of the Japanese car market.
The best-selling model for the year in Japan, announced last week, was the Toyota Aqua with more than 262,000 sold, followed by the Prius, Honda Fit, Nissan Note and Corolla, in that order - all small cars.
Exchange rates have been moving in favour of Japan exporting to the US and elsewhere. A strong yen erodes the value of overseas revenue, a big drawback for the Japanese. But the US dollar has soared lately to about 105, compared with about 90 a year earlier.
Still, Ford officials were hopeful.
"This is for those who might want a different kind of compact," Morita said at a Tokyo cafe displaying the Fiesta, which goes on sale on February 1. "Our business in Japan will become stronger."
Instead of dwelling on the larger trade issues, Morita and other Ford officials stressed the Fiesta's efficient 1-litre engine, its "kinetic" exterior design and its trademark driving performance.
Ford will also introduce the EcoSport sport-utility vehicle this year, bringing to eight the number of Ford models on sale in Japan, including the Mustang and Focus.
"We want to work on what is under our control," said Morita. "We think we have a chance."
An analyst at IHS Automotive, Yoshiaki Kawano, said imported cars in Japan were becoming smaller and coming down in price, like the Fiesta.
"People buying imports in Japan used to be lawyers and doctors," he said. "Now we have a new breed of younger people, who have money to spend from stock investments and entrepreneurship."
-AP